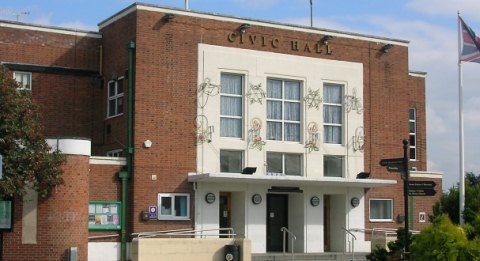 Nantwich Town Council has agreed to take on the town's Civic Centre and indoor and outdoor markets from April 2012.
Town councillors also voted to take charge of public toilets in the market, on Barony Park and Snow Hill car park.
Allotment sites are also being passed to the town council.
Both Cheshire East and Nantwich Town councils have agreed the move as part of the Government's localism agenda.
Nantwich town councillor David Marren, leader of the town plan and partnership committee, said: "This is an exciting opportunity for Nantwich and I am very pleased the town council's decision was unanimous and enthusiastic.
"This decision provides certainty these important local services will continue and be protected and provided for the benefit of the people of Nantwich.
"I very much applaud Cheshire East's programme of transferring assets and devolving services to local communities – it is far sighted.
"Although the cost of the services will transfer from Cheshire East to the town council I believe we will be able to operate these services more efficiently because we have lower management and support costs.
"It is good for democracy as local councillors will now be in a position to shape services to meet our particular local needs. This is a good day for Nantwich."
Cllr Rachel Bailey, Cabinet member with responsibility for safer and stronger communities, said: "We are working very closely with the town council to progress the transfers and to ensure that the services continue to run smoothly.
"The maintenance and running of these facilities will be in the hands of local people, who are best placed to decide how local services should be managed."
Cheshire East has already transferred public toilets in Audlem to local control.
This was the first official transfer as part of the local service delivery project but Nantwich is the first town to take on major public buildings.
Cheshire East will be consulting with the current users of The Gables on Beam Street, Nantwich, including the Citizens' Advice Bureau (CAB) and Gables Luncheon Club, to determine its future use.
Nantwich councillors are also keen to take control of their offices in Brookfield Hall.