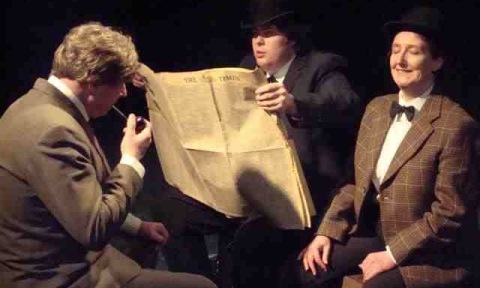 The opening night of Nantwich Players' latest production "The 39 Steps" lived up to its sell-out billing, writes Jonathan White.
The classic spy adventure novel, written by John Buchan, has been adapted for stage by Patrick Barlow who based his play on Alfred Hitchcock's classic 1935 film.
Barlow's tongue-in-cheek version shares the same characters as the film but uses only four actors with three of them playing numerous different roles.
The lead character, Richard Hannay, is played by the same actor (Richard Sadler) throughout.
Hannay finds a dead woman in his apartment and when subsequently accused of her murder he tries to escape the police whilst trying to find the real killer.
As a result our hero travels near and far and is involved in a train chase, a jump out of a window, and even gets handcuffed to a woman (Sian Walker, who plays the roles of Annabella Schmidt/Margaret and icy blonde Pamela) by accident.
Pamela initially gives him a hard time only to fall in love with him later and together they aim to solve the mystery of the 39 steps.
Avril Allman (Clown One) and Chris Ridge (Clown Two) play all the other roles in the play and show great versatility impersonating everyone from underwear salesmen to railway workers and policemen.
Director Gordon Hamlin has done a fantastic job of putting together all the right elements in this hugely enjoyable comedy.
Anyone fortunate to have purchased a ticket is in for a real treat as the show is running sell out nights all week until February 18.
The Mayor of Nantwich Cllr Arthur Moran was also present at last night's opening performance.
(PIC: courtesy of Nantwich Players)