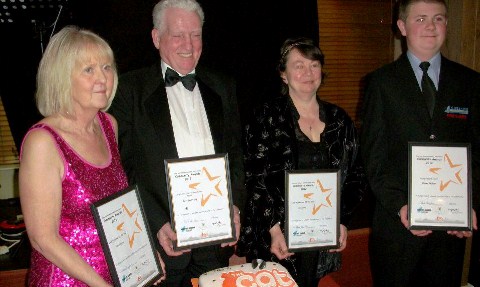 By Andy Martell
The winners of The Cat Community Awards were unveiled at an event held at Richmond Village Nantwich.
The awards recognise those who make a special contribution to the local communities of Nantwich and Crewe.
The Local Fundraiser of the Year award was presented to Ann Aspinall, from Nantwich, for her efforts in raising thousands of pounds for Cancer Research through the annual Turn Nantwich Pink event.
Local Volunteer of the Year was Olwyn Payton, who kick-started a healthy eating breakfast club at Pebble Brook Primary as well as supporting the Wingate Centre in Wrenbury, Richmond Village in Nantwich and the RSPCA.
Emma Timmis' 60 marathons in 60 days along the Freedom Trail in South Africa was recognised as the Achievement of the Year.
The money she raised has helped the Stapeley Grange Wildlife Centre and Cattery in Nantwich.
The Young Persons Award went to Oliver Wilson, David Lewis and Kameron Brown-Ford.
Oliver was on hand to receive the award on behalf of his two friends. All three volunteer as fire cadets and help with fundraising for local charities.
Long Service to the Community award was presented to Ray Stafford for his fund raising and support group work in the area.
The event was organised by Claire Faulkner and hosted by Chris Radford both from The Cat.
Mayor of Nantwich Cllr  Arthur Moran introduced the awards.
'Young Guitarist of the Year' James Bell entertained everyone with an impressive solo guitar performance.