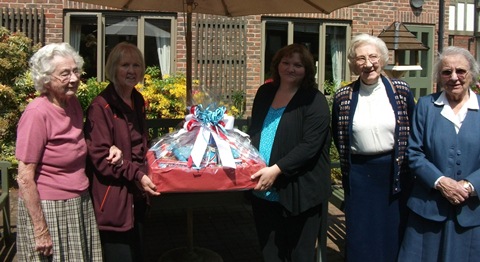 Richmond Village in Nantwich is staging a traditional street party on Saturday June 2 as part of the Queen's Diamond Jubilee celebrations.
It will be one of dozens of similar events throughout the town and surrounding villages over the next four five days.
Nantwich Sainsbury's store, which supports events at Richmond Village, has created a Jubilee hamper to be raffled for charity at the event.
Sainsbury's manager Pete Jones said: "We support events that benefit local charities and we work closely with Richmond Village.
"I am sure that their street party will be a great success."
(Pic: Olwyn Payton, of Sainsbury's, handing over the hamper to catering manager Debbie Merchandelli and residents Mary Davies, Joan Freeth and Betty Woodward)