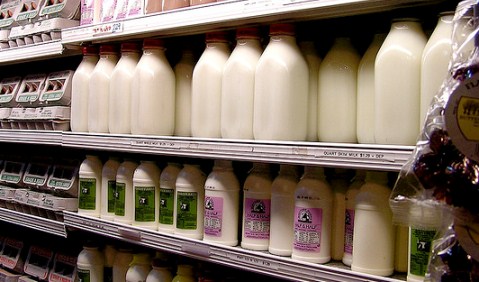 Hundreds of dairy farmers from Nantwich and South Cheshire have joined in the protests over milk prices.
The farmers have been demonstrating outside processing firms calling on fairer prices for their milk.
It follows controversial moves by processing companies to slash the price they pay farmers per litre by up to 2pence from August 1.
Processing firms say they are forced into cutting the price because of the squeeze being put on them by major supermarket retailers.
But some dairy farmers like Nantwich-based Phil Latham believe this will drive many of out business.
Local National Farmers Union members have been demonstrating over the weekend outside regional processing depots such as Joseph Heler's at Hatherton, near Nantwich, and Robert Wiseman's and Muller in Market Drayton.
Louise Young, local NFU representative, said around 750 people turned out to protest last night (July 22), with many from Nantwich.
Mr Latham, who has two dairy farms in the area, said: "I will lose 5 or 6p per litre. The processors won't make anything on milk, but they will trade in the cream they take from my milk and make a profit on that.
"Farmers are getting increasingly angry having to work extremely long hours for no money – and in this case making a loss."
The Government has mooted a change in regulation, including a "voluntary code" for fixed price contracts to protect farmers.
"But it's very unlikely this is going to work," added Mr Latham.
"A lot of trust has been lost between the farmers and the processors over this. The margins available for milk are disproportionately shared."
Nantwich MP Edward Timpson has met with local farmers to discuss the crisis.
Mr Timpson said: "The dairy industry is a key part of the local economy in Crewe and Nantwich, it is important farmers are able to achieve a fair price for their milk and that purchasers are able to take their final product to market whilst maintaining affordability.
"I am aware the Government is working closely with industry to drive forward an agreement of a voluntary code of practice between dairy farmers and purchasers to establish improved contractual terms and conditions including greater price transparency.
"The recent changes in policy announced by Asda and Dairy Crest are welcomed but more must be done for long-term stability and fairness in the industry."