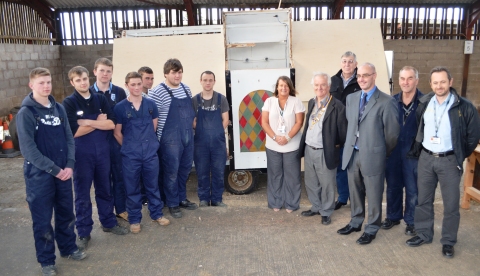 Nantwich students have been giving Santa a helping hand with his trusty transport.
Joinery and carpentry students from Reaseheath College pooled their talents to restore a Christmas float for a local rotary club.
The float, which has toured homes and shopping centres in Crewe for 15 years, is having a new outer skin built.
The facelift of the black and white cottage, with its chimney seat for Father Christmas, will be completed by painting and decorating students from South Cheshire College.
And it should be ready to hit the streets on December 6 until Christmas Eve.
The float helps the Rotary Club of Crewe, which is celebrating its 80th birthday, raise around £7,000 each year through public donations.
The money goes to local charities and youth organisations.
Rotary Club of Crewe President Jerry Park said: "We have very much appreciated this professional overhaul by students.
"Our float has become a tradition in Crewe and its arrival is eagerly awaited by families. Some of the students will remember it from their own childhood.
"As well as helping to maintain a popular service in Crewe, this project will also help us to continue to raise money for local good causes."
The work is being supported by Wulvern Housing.
Jan Melia, Wulvern regeneration officer, said: "Santa visits many of the neighbourhoods where Wulvern has homes.
"By supporting this we are able to bring a little seasonal joy to our customers and to help a good cause too."