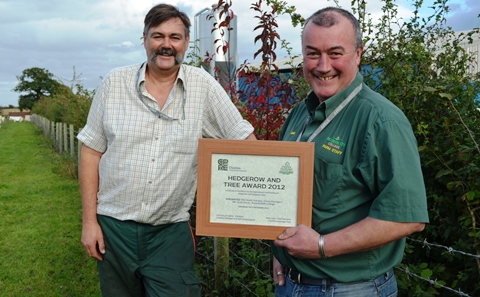 A hedge on Reaseheath College's Nantwich campus has won a regional award because of its benefits to wildlife.
The hedge took the 2012 Hedgerow and Tree Award in a Cheshire Landscape Trust annual competition awarded by the Campaign to Protect Rural England.
It was recognised for the excellence of its plant selection and its ongoing maintenance.
Reaseheath farm manager Mark Yearsley received the award at an event on the Wirral.
The hedge was planted four years ago and is formed of native species of shrubs and trees selected by students to be wildlife friendly and suitable for the soil conditions.
The selection of hazel, field maple, hawthorn, blackthorn, spindle, honeysuckle, dog rose, small leaved lime and holly has thrived and now provides nectar, seeds and fruit for wildlife.
It also provides an important habitat for small mammals and some rare species of butterfly.
Katie Lowe, chief executive of Cheshire Landscape Trust, said: "The hedge was selected because it is a superb example of a healthy wide hedgerow with an excellent species mix.
"It is being used by the students as a tool to learn the benefits to both agriculture and wildlife of planting and maintaining such a hedge. We had no hesitation in giving Reaseheath their Hedgerow Award."
(pictured: Reaseheath countryside lecturer Leigh Cawley and farm manager Mark Yearsley with the prizewinning hedge)