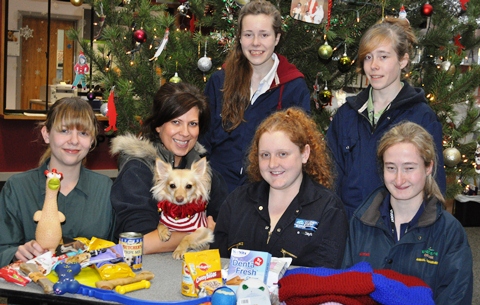 Homeless dogs will enjoy some Christmas cheer thanks to animal management students in Nantwich.
Reaseheath College students were so touched by the plight of unwanted dogs and puppies rescued by Animal Lifeline, they organised a Christmas collection.
It was the second year running they staged the fundraiser for the charity, and helped to collect donations of dog food, treats, toys and blankets.
They made sure gifts were delivered in time for the festive season.
The collection was the idea of animal management instructor Emma Hunt, whose own dog 'Jojo' was an unwanted pet.
Emma said: "Animal Lifeline is a voluntary group that receives no official grants and relies solely on fund raising and donations.
"It has saved more that 10,000 dogs and puppies in total, doesn't have dogs put down unless on veterinary advice and keeps some dogs permanently if they cannot be re-homed.
"I think they do such an amazing job I was keen to support the charity and the students were very keen to join in. Hopefully we will have brought some Christmas cheer to the dogs at the centre."
Pat Lawton, who runs Animal Lifeline in Stoke, said: "I am extremely grateful for the support Reaseheath College has given us.
"I am sure the dogs themselves will be very pleased with their gifts and will have a more enjoyable Christmas."
Animal Lifeline works in South Cheshire and North Staffordshire and has many puppies and older dogs looking for good homes.
The charity will check homes for suitability before placing dogs. For details phone the rehoming line on 01782 638341.