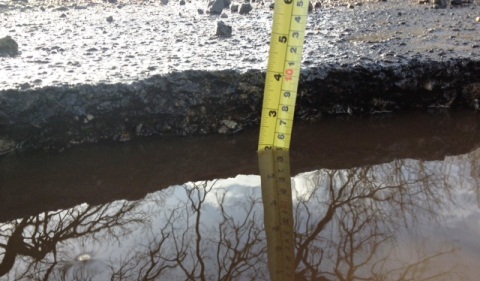 This 10cm-deep pothole in the Nantwich area has sparked a health warning to drivers by reader Andy Oakes.
And it seems the hole, on Den Lane between Wrinehill and Blakenhall, could have gone unrepaired for nearly four years.
Andy said: "I hit this in my car and it caused the tyre to tear on the inside wall!
"This was on December 18. I have informed Cheshire East Council and reported it on www.Potholes.co.uk and it still hasn't been fixed."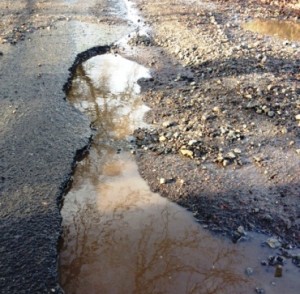 Amazingly, Andy checked on Google Earth and believes he can see the same hole back in 2009.
"Someone is going to be seriously hurt if not killed before long!" he added.
Other pothole-ridden roads pointed out by readers include Monks Lane at Acton.
"It's needed doing for years," one reader tweeted.
"What do we pay council tax for? It's certainly not for highway maintenance Do we have to wait for a serious accident ?"
Another reader highlighted South Crofts close to Nantwich town centre.
"It contains multiple potholes along its entire length," said one resident. It's also dimly lit, so it's a wonder I've never gone over on my ankle whilst running down it."
Other readers joined in the debate, which was sparked when Nantwichnews revealed this week how angry residents, teachers and town councillors hit out at the state of Marsh Lane, off Welsh Row.
"It's not just Marsh Lane – potholes in Cheshire are terrible at the moment," said one reader.
"I Thought I'd broken my wheel the other day!"
"Try pushing a pushchair on Hospital Street!" tweeted another.
"It's an obstacle course! It's the same all over, roads terrible."
And one tweeted from his car: "Hopefully they (Cheshire East Council) will pay for mine. Will be sending a bill as I'm sat here with a burst tyre now in Church Minshull!"
A Cheshire East highways spokesman told us earlier in the week that repairs had to be prioritised to major roads first.
Add your comments or tweet us @nantwichnews with other examples of bad potholes in the Nantwich area.
You can also report potholes on www.fixmystreet.com and these will be forwarded to relevant highways authorities.
(pictures courtesy of Andy Oakes)