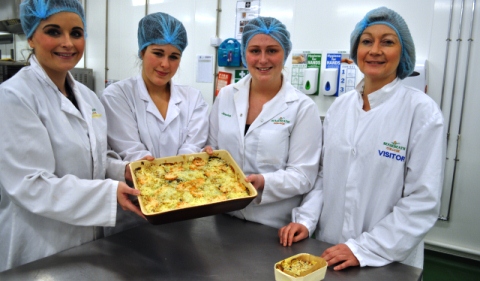 Tasty dishes made by Nantwich students could end up on Marks & Spencer deli counters!
Final year Food Industry with Management students at Reaseheath College have created deli products to tempt M&S customers.
They then pitched their products before a panel of "Dragon's Den" style food experts, led by M&S product developer Barbara Ross.
They looked at profit margins, cost of raw materials, packaging and labour, and developing dishes after seeking group and consumer feedback.
Also among the judges was Reaseheath's head of food Toni-Anne Harrison and technical manager Katharina Vogt.
And the best two or three are now being reviewed by M&S for further development.
The winning dish was a sweet potato and spinach dauphinoise created by Abby Brown, 20, Jess Riding, 21, and Emily Clayton, 20.
Barbara said: "I was really impressed. The students showed an excellent knowledge of the deli counter and had carried out consumer taste testing to a high level.
"M&S has a reputation as a leader in food innovation and initiatives like this help us build a pool of gifted and talented students."
Reaseheath lecturer Jayne Storer said: "This was a true test of the students' initiative because it was the first time they had worked to a live brief.
"It was extremely industry focused and realistic, replicating exactly what they will need to do in their future careers."
Emily said: "The whole project was very interesting and rewarding. It was great to get feedback from key people in the industry."