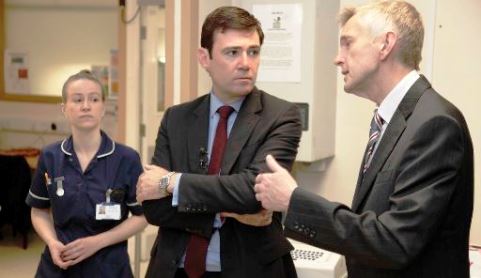 Shadow Health Secretary Andy Burnham toured Leighton Hospital's emergency department before a major A&E Summit in Westminster.
Mr Burnham looked around the department which serves thousands of Nantwich and Crewe residents.
He spoke to staff about their roles, and how they cope with rising numbers of admissions.
Latest figures show there were 83,320 admissions to A&E and minor injuries unit in 2012-13. That's a rise of almost 4,000 compared to the previous year, and nearly 8,000 compared to 2009-10.
Mr Burnham also visited as figures also show Leighton Hospital is one of only a few units in the country to achieve the desired standard of 95% of A&E attendees waiting a maximum of four hours from arrival to admission, treatment or discharge.
Denise Frodsham, chief operating officer at Mid Cheshire Hospitals NHS Foundation Trust, said: "Like most hospitals in the country, we are feeling the pressure of increased numbers of people attending A&E.
"However, despite the significant increases in activity we have seen, we are still seeing the majority of our patients within the four-hour standard and offering them the best care and patient experience possible.
"We have achieved this by working closely in partnership with our local Clinical Commissioning Groups (CCGs) and social services to ensure patients are being managed and treated in the most appropriate place for their illnesses or injuries."
Mr Burnham is seen talking with Consultants Dr Shirley Hammersley and Adrian Heald, as well as Verity Lockett, service manager for emergency care, and
Admission figures for the last four years:
2012/13 – 83,320
2011/12 – 79,579
2010/11 – 77,416
2009/10 – 75,461
(All pictures courtesy of Simon J Newbury Photography)