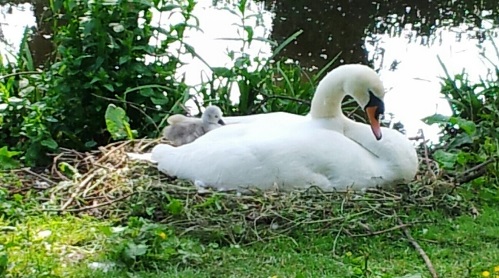 RPSCA chiefs are hoping to erect warning signs around Nantwich Lake after a popular young cygnet was attacked and killed by a dog.
The cygnet and its parents have been a regular attraction around the lake and riverside over the summer.
But Nantwichnews revealed how the cygnet, the only one to hatch from three swan's eggs on Mill Island, died last week after an apparent animal attack.
Now Lee Stewart, manager of RSPCA's Stapeley Grange Wildlife Centre on London Road, said they are keen to work with Cheshire East Council to install signs in the area to warn dog owners.
"The cygnet arrived with an open fracture on the wing and was put to sleep," said Mr Stewart.
"It is very sad as staff had been monitoring this cygnet for some months, it had very inexperienced parents.
"We often get swans in that have been injured by dogs.
"We are always promoting responsible ownership and encouraging members of the public to keep their dogs under control and on leads if need be, especially around waterfowl.
"We are hoping to work with the Cheshire East Council in the coming months and plan to put up signs about this and other waterfowl related issues, which hopefully will help."
The cygnet's death has prompted an outcry among pet owners who claim there are too many "irresponsible" dog owners allowing their animals off leads around the lake.
One called for a "lead only" policy, with those caught letting dogs off their leads punished or fined.
(pic courtesy of Jan Millar)