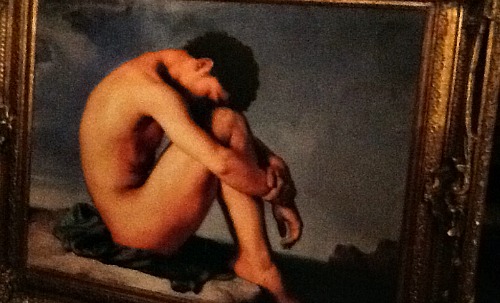 A gang of Eastern European armed robbers tied and beat an 80-year-old granddad before stealing antiques and paintings worth more than £100,000.
The victim suffered a brutal seven-hour ordeal in his own home on the Cheshire/Staffordshire border.
Two thugs knocked him to the ground and dragged him in to the house as he returned from a supermarket trip.
They were joined by five or six other men, all with Eastern European accents.
They then battered the family dog with a baseball bat, taped the elderly homeowner to a chair before beating him with an iron bar and punching him in the face.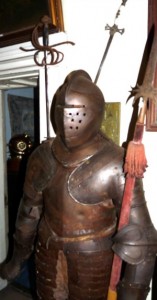 The gang, who arrived in several vans, then stripped the country home of paintings, furniture, historic suits of armour, old weaponry, jewellery, watches and more.
They also ripped phone wires, ripped up floorboards and smashed holes in ceilings to look for money and other valuables.
One of the victim's relatives, who runs a business in Nantwich, has launched a Facebook campaign to alert antiques dealers across the UK in a bid to trace the gang.
The Facebook thread has had almost 12,000 hits in less than 24 hours.
The relative, who declined to be named, told Nantwichnews: "It's clearly been a highly professional and organised job and wasn't just a random attack.
"Police think they may have been watching the house for some time. There is little in the way of DNA, although there are some leads, and they all wore gloves all the time, and masks.
"All of the antiques taken are big canvass portraits – Cromwellian-style portraits or landscapes – and they've taken five suits of armour, swords, Cromwellian helmets, breast plates, pikes and that sort of thing.
"I cannot believe how anyone with even a shred of decency could beat an 80-year-old defenceless man in the way they did.
"He is black and blue and very shaken up, but considering what he has been through, he is coping remarkably well.
"But they've left him with nothing and to make it worse, as a pensioner he couldn't afford insurance premiums – so he really has lost everything.
"This gang needs to be brought to justice, before they destroy another person's life."
Pictured are just a few of the items stolen. For a full list of what was taken, visit the Facebook campaign page here.
They also stole the victim's grandson's Mercedes Sprinter, reg KM57 TCU, which was outside and filled it full of gear.
Det Sgt Rich Baddeley, investigating officer, said: "The offenders assaulted the victim and tied him up while they systematically searched his house selecting valuable items. I can only imagine how scared he must have been during this horrific incident.
"A detailed investigation is now underway which includes the examination of forensic evidence from the scene, checks of CCTV and Automatic Number Plate Recognition systems (ANPR) from the locality.
"We believe the specialist items could be offered for sale via auction or specialist dealers and we are contacting as many as possible to make them aware of this incident."
Anyone with information or who can help, contact Staffordshire Police and quote the crime reference number 0144 28/09/2013.
Readers are also being urged to like and share the Facebook page to spread the appeal.