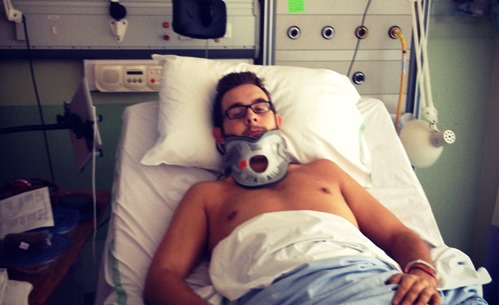 Exclusive
A Nantwich rugby player has revealed his heartbreak after doctors told him he will never walk again.
Kieran Flynn, 21, faces life in a wheelchair after a freak tackle in pre-season left him with severe spinal injuries.
Specialists delivered the devastating news the Crewe & Nantwich RUFC star feared most after six weeks of assessing the injuries.
The fly-half, who lives in Nantwich and has played rugby since the age of 8, faces several more months at Oswestry Hospital, a specialist orthopaedic centre.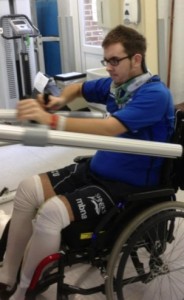 In a break from treatment, Flynn told Nantwichnews: "There is reduced sensation from waist down, but the neck is beginning to fuse.
"But doctors have said I'll never walk again due to the damage to my spinal cord.
"The hardest thing to cope with is the fhe fact I'll never walk again.
"It feels as though I'm trapped in a dead body. It's very hard to be stuck in hospital.
"As you can probably imagine my mind's everywhere.
"I feel heartbroken and feel like I've failed."
Stars from the game and further afield have offered messages of support, including British Lions captain Sam Warburton and former Crewe Alex and England striker Dean Ashton.
"The support has been overwhelming," added Flynn, who is training to be a lawyer.
"It's been unreal thanks to my mum, dad, family, close friends, the best rugby club in the world, and all well wishers.
"I've had messages from Sam Warburton, Nicolas Hamilton, Ben Foden, Gareth O'Brien, Stefan Ratchford, Una Healy, Rob Burrow, Kallum Watkins to name only a few.
"I know so many of you are interested in my progress and care for me, and frankly I'm going to need your support.
"I just want to say a huge thank you to everybody that has supported me. I've got the best friends anybody could wish for. The best family. The best rugby club supporting me and unbelievable support from everybody."
Flynn's injury happened during a pre-season warm up game against Christleton back in August.
"I tackled an opposition player and as I tackled him he released the ball," he recalls.
"My momentum meant my right leg left the ground and as I did so he tipped me into my neck.
"I remember falling from around 4-5ft onto my neck and being knocked out."
The impact broke his neck in three places, shattering the vertebrae and damaging the spinal chord.
Club chairman Jon Cockburn has said: "It is going to be a long road to recovery for Kieran but his ambition is to be at the ground for the last game of the season, let's hope and pray that will be the case.
"As a club Crewe & Nantwich RUFC are very grateful to the support already shown by individuals, other clubs and the RFU and your future support would be greatly appreciated in keeping his motivation and recovery going."
Messages of support can be sent to Kieran on email [email protected], or his Twitter account @KieFlynn