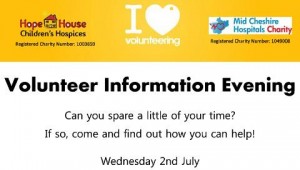 Two local charities are joining forces to recruit volunteers at a special event in South Cheshire next month.
Mid Cheshire Hospitals Charity and Hope House Children's Hospice are staging the recruitment drive on Wednesday July 2.
They want as many people as possible to attend at the George's Community Centre, West Street, Crewe, between 5pm and 7.30pm.
People will find out more about how they can help the charities, hear more about what it involves, about the work that they carry out and ask any questions about becoming a volunteer.
Laura Bailey, fundraising manager at Mid Cheshire Hospitals Charity, said: "We are keen to find people who can give an hour or two of their time to help us with local fundraising events and public collections.
"I really hope people will come along to find out more about what being a volunteer involves and look forward to welcoming them on July 2."
Hannah Penney, Hope House area fundraiser for Cheshire, added: "Charities like Hope House Children's Hospice and Mid Cheshire Hospitals Charity really depend on local support and fundraising and we know many people find it really rewarding.
"I would urge anyone who is interested and can spare even an hour now and again to come and speak to us as we really need your help."
Anyone keen to attend should contact Hannah on 07790755652 or email [email protected],  or contact Laura on 01270 273248, or email [email protected]