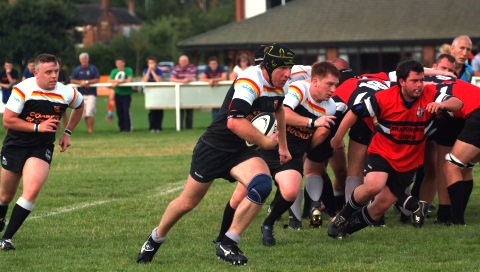 Crewe & Nantwich RUFC returned to winning ways with a powerful display to beat Leek 39-22.
The Vagrants side, who were promoted to Midlands 1 West behind Leek last season, proved the stronger outfit in a thrilling contest.
And the victory has put Crewe back on track and up to fifth in the division after losing three of their previous four outings.
Leek, who defeated the Black & Whites twice last season, have steadily improved their league position after being demolished by runaway leaders Newport in their first game of the season by 70 points.
But Crewe denied them the opportunity as they eventually took full control of an exciting game.
Crewe Flanker Oli Buckley took a clean catch from the kick off and the Crewe backs zipped the ball through three phases of play, probing and testing their opposite numbers.
From broken play, hooker Eli Woodward made a decisive break from halfway line deep into Leek territory.
Eventually, No 8 Kirk Robinson took possession and smashed his way through the cover to score on the left hand side.
Leek replied and after a failed catch and drive on the Crewe line, they broke away to score a converted try.
On 15 minutes, Crewe centre Andre Zwijnen made a line break and offloaded for fullback Toby Ward to score in the right hand corner who also kicked a fine conversion.
From the restart, Josh Collins blasted his way through the cover, and the ball was moved quickly by Scott Cann and Ward to centre Joe Gammage who outpaced the defence to score under the posts, converted by Ward.
On 36 minutes, the dangerous Leek left wing scored a good try after several minutes of Leek pressure on the Crewe line.
Leek were first to score in the second half with a penalty, which was swiftly equalised by a Scott Cann penalty for a Leek offside.
Gammage then broke down the left and set up winger Tim Cowap who powered through two tacklers to score in the left hand corner and gain the bonus point for four tries.
On 60 minutes, scrum half Charlie Hutchings chipped over the defence on the halfway line and set up a ruck from where captain Niall McGregor fed prop Al Hargreaves to score a converted try.
Skipper McGregor then set up 18-year-old Pat Fray, who scored his first try for the 1st XV.
Leek notched a breakaway try which was converted from wide out on the left.
Head of rugby Andy Brown said: "This was a strong team display and we are capable of being a force in this league despite being the new boys.
"The forwards had a good day in the set piece and got over the gain line on numerous occasions. The backs showed a cutting edge in all departments and the handling leading up to the tries was superb."
Kirk Robinson was named man of the match.
Next week, Crewe & Nantwich face a semi-final Cheshire Vase clash v Northwich at home, kick off 2.15pm.
The following week they take on league leaders Newport away.