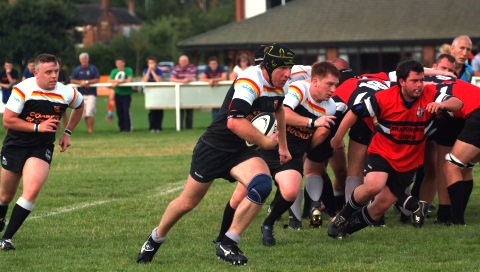 Crewe & Nantwich RUFC produced a Jeckyll and Hyde performance in their defeat at Stoke-on-Trent, according to director of rugby Andy Brown.
Crewe scored four tries, secured a bonus point, and at times played their best rugby of the season.
But Brown said for short periods in either half the team switched off and were punished.
"In the first half, we gifted two tries when winning ball at the ruck and our scrum-half already committed, the ball was picked up by a Stoke player as the ball was out of the ruck on Crewe side, gifting 14 points," said Brown.
"At this level, we cannot afford to make mistakes of this magnitude."
Crewe & Nantwich dragged themselves back to 19-13 at half time thanks to scores by flanker Matt Standley after an excellent offload by Niall McGregor (pictured), and by Tim Cowap who took advantage of a fine break by centre Joe Gammage.
But in the second half, a nightmare 15 minute period saw Stoke run in three tries which put the game out of reach of the Vagrants side.
They fought back with two more tries to gain a bonus point, with McGregor again setting up Standley for his second and then McGregor ran a penalty close in, and Josh Collins dived over.
Head coach Andy Dudley said he had mixed feelings, but added: "I was delighted with the general play from the team and the contact skills worked on in training are providing a dynamism to Crewe's game."
But he admits the defensive aspect of the Crewe team needs addressing and Dudley is already working on options and training to solve this problem.
Stratford visit the Vagrants next Saturday December 13, kick off 2.15pm.
"Stratford are on a good run of form, so this will be an excellent challenge for the boys," added Brown.
The final game of 2014 is away at Whitchurch.