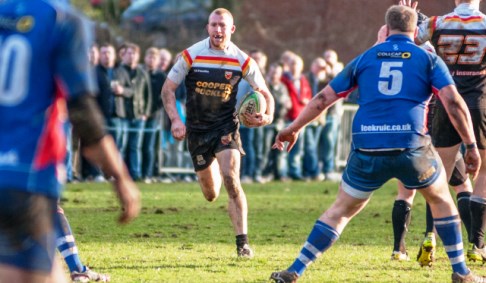 Crewe & Nantwich 1sts have their season back on track with this fine win over a tough Stratford outfit.
And director of rugby Andy Brown feels the Vagrants side can only improve as they strive to move up in Midlands 1 West.
It was Crewe & Nantwich's sixth consecutive victory at home, but with only one win in seven on the road, Brown knows their away form has to get better.
"We have had a mixture of results in recent weeks but the brand of exciting rugby is always entertaining," he said.
"There are areas for improvement such as maul defence and decision-making when the overlap presents itself.
"The massive amount of phases we now go through with the ball will always eventually yield an overlap or a gap in defence and the decision to run the overlap or go for the gap needs communicating to the ball carrier.
"Head Coach Andy Dudley is already planning training to remedy matters.
"The exciting thing is that there are still improvements for this team and it is not the finished article but they are good to watch."
And the fans who enjoyed this latest victory thought so.
Their first try set the tone, which was started and finished by the excellent Tim Cowap.
After great link play by Kirk Robinson, Toby Ward and Mike Greatbanks, Cowap powered in the right hand corner.
Stratford scored a forward's try to level the scores, and then rolled off a maul to score a try on Crewe's blindside to take the lead 10-5.
But centre Joe Gammage then intercepted a loose pass and ran in 25 metres to score under the posts, converted by Ward.
Hooker Eli Woodward smashed through the opposition line to score another as Crewe took control.
Ward (pictured) slotted over an early penalty in the second half, and then burst through the defence to score a try which he converted.
Stratford replied with a converted try as they still committed 100% to the game.
Ward slotted another penalty from 30 metres but again Stratford fought back and earned a try and a bonus point.
Great work by Woodward, Kieran Alsop and Thom Vanstone, set up Ollie Buckley to smashed through a gap to score under the posts.