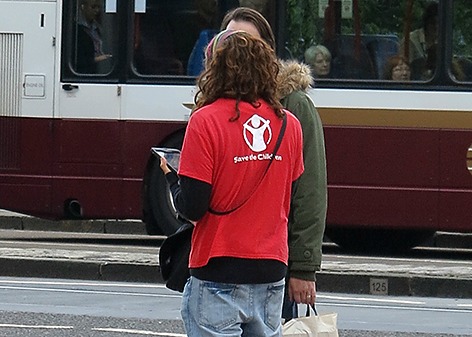 Charity collectors in Nantwich could be limited to working just one day a week, if councillors get their way.
Retailers and shoppers have complained about too many collectors, known as Chuggers, targeting Nantwich town square over recent months.
Chuggers do not need a licence to operate as they are not collecting cash from people.
But they use pressure tactics to try and get people to sign up to direct debits to make regular charitable donations.
Complaints about the way they operate led to officers from the Public Fundraising Regulatory Association visiting the town last month to monitor the problem.
Currently, up to five fundraisers are operating in Nantwich on three days a week.
But Nantwich Town councillors believe this should be limited to two collectors on just one day a week.
Cllr Christine Farrall, Mayor of Nantwich, said some retailers had complained that customers were being "put off" from coming into town by the charity collectors.
Cllr David Marren said: "We have two different types of collectors in the town.
"Those with tins collecting money, who have to be licensed by Cheshire East Council and who stand there quietly in one place.
"And the 'chuggers' who don't need to be licensed."
Town council clerk Ian Hope said other towns in Cheshire East were "vociferous" in pushing to limit chuggers to just one day a week.
Cllr Stuart Hutton said: "In light of the information that these are in addition to the approved Cheshire East collectors, we should impose these more stringent requirements."
Any agreement with the PFRA would be a voluntary one, the council was told.
However, there is a fining system in place.
If the association receives a certain number of complaints, then charities they are collecting for could be fined up to £1,000.
The town council resolved to recommend that up to two "chuggers" could operate in Nantwich for just one day a week.
(pic for illustration purposes only)