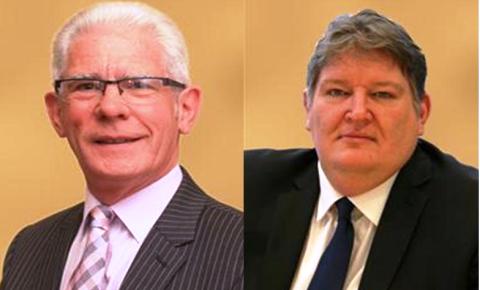 A Nantwich councillor has criticised Cheshire East Council, claiming that "stealth tax" rises will counter any freeze in council tax rates.
Cllr Arthur Moran spoke out after Cheshire East announced a two-year freeze on council tax.
Despite the freeze, he said Nantwich town residents are still facing the highest bill of any town in Cheshire East.
Cllr Moran, deputy leader of the Independent Group who represents Nantwich North and West, said services and facilities taken over by town and parish councils in Nantwich mean residents will continue to face high bills.
Band D property owners in Nantwich will be paying £1,306 a year, not including charges from police and fire services.
This compares to £1,245 in Crewe, £1,286 in Congleton, £1,284 in Alsager, £1,283 in Middlewich and £1,279 in Sandbach.
Cllr Moran (pictured above, left) said: "Cheshire East's medium term financial strategy sounded like the tax strategy for the Conservative administration, not one for residents.
"They pull another rabbit out of the hat with a two-year freeze on council tax, but residents are facing stealth taxes.
"There were no details given on fines or charges for social care services or car parking.
"Parking charges went up in Crewe last week, yet parking is still free in Sandbach! This must be addressed.
"But the biggest stealth tax is shifting of services to town and parish councils – this is despite a reduction in the annual bill by Nantwich Town Council.
"In Nantwich, we've now in the last four years had the highest council tax bill in Cheshire East.
"Residents in Nantwich will decide in May if they feel they have been conned by this Conservative administration.
"In the past years, it's been a blank cheque. But after this election, residents will really have to pay."
The 2015-16 budget was rubber-stamped at a Cheshire East full council meeting last week.
Council Leader Cllr Michael Jones (pictured above, right) claimed it was "the best budget in the North West and one of the strongest in the UK".
"Cheshire East Council is demonstrating how local authorities can cut costs via innovative ways of working and a listening approach that puts residents first," said Cllr Jones, who represents the Bunbury ward.
"We care about the pounds, the pennies and the people."
But there was also criticism from UKIP group leader Cllr Brian Silvester, who had called for Cheshire East to agree a reduction in council tax for 2015-16.