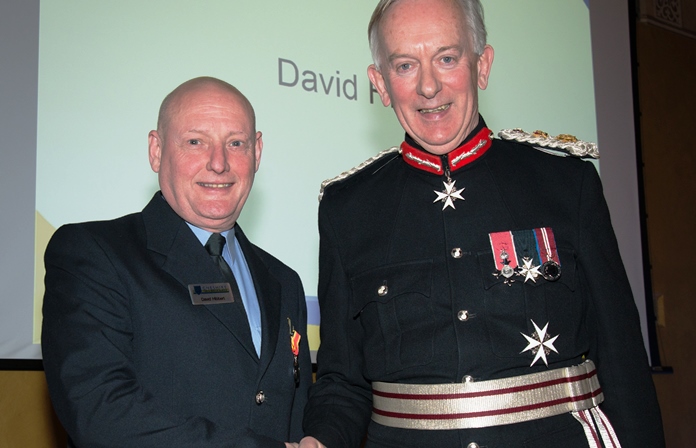 A Nantwich fireman was one of 19 in Cheshire to be honoured with a Long Service and Good Conduct Medal.
Kevin Smith, based at the Beam Street fire station in the town, was among those hailed by Chief Fire Officer Paul Hancock at a ceremony.
Other firemen who received the medal included Jonathan Angier, from Crewe, Mark Brothwood, from Crewe, David Payne, from Knutsford, and David Hibbert (pictured), from Bollington, near Macclesfield.
In all, 19 members of Cheshire Fire and Rescue Service were recognised for having completed 20 years exemplary service.
Cheshire's Lord Lieutenant David Briggs, who awarded the medals, said: "The Fire Service Long Service and Good Conduct Medal is issued by Royal Warrant, and I was therefore honoured to make the award on behalf of Her Majesty.
"I extend my sincere congratulations to all medal recipients on achieving 20 years exemplary service.
"The job they do requires humility and respect often delivered under arduous conditions.
"Theirs is a special job, a vocation for which they have been deservedly honoured."
Chief Fire Officer Hancock added: "This special award is presented to individuals who have served for 20 years and who have, in that time, shown exemplary behaviour.
"I would like to congratulate everyone who received a medal which is a great honour, and thank them for their dedication to the service."
(Pic: David Hibbert presented with the Long Service Good Conduct Medal by Cheshire's Lord Lieutenant David Briggs)