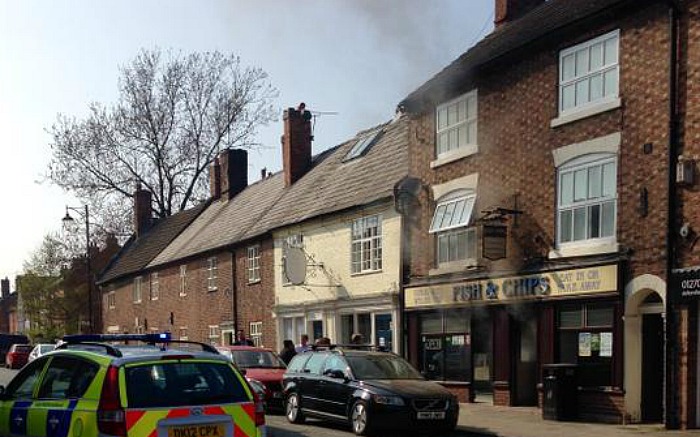 Fire crews have battled a blaze in a chip shop in Nantwich.
One woman was treated at the scene and taken to hospital for smoke inhalation as the fire broke out at Welsh Row chippy.
Three fire crews, police and paramedics were all called to the scene this afternoon (April 21) shortly after 3.40pm.
The blaze involved a fryer and extractor ducting in the shop.
Firefighters had to use breathing apparatus to fight the flames and search the smoke-logged premises on the first and second floor above the shop.
A Cheshire Fire and Rescue spokeswoman said all people have been accounted for, and one female was treated by paramedics at the scene before being taken to Leighton Hospital.
Crews are also investigating the shop's extractor fan system to see if this was the cause, although nothing has been confirmed.
Neighbouring properties of the mid-terraced chippy were also inspected with imaging cameras to check for smoke and fire damage and hotspots.
"A large fan has been used to clear the smoke from the building, and they are currently inspecting the ducting in the shop's extractor system," the spokeswoman added.
Police closed the road between Queens Drive and Marsh Lane so emergency vehicles could attend.
The alarm was raised at about 3.40pm, and crews are still at the scene.
(Picture courtesy Nantwichnews reader)