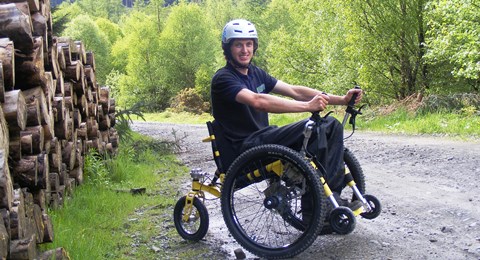 A Nantwich firm which hit the headlines with its all-terrain wheelchair, has launched two new products.
Mountain Trike, based in Walgherton, has expanded its range with the launch of the Mountain Trike Push (MT Push) and Mountain Trike Evo (MT Evo).
The MT Push has a lever drive system where riders can propel themselves leaving them with clean hands.
It has a removable adjustable push handle behind the user, where the steering and braking takes place by the rider's buddy.
The MT Evo is a Mountain Trike adapted for riders with limited hand function.
It was developed after the company consulted tetraplegics, quads and various people with limited hand function. It has simpler controls and a unique lever drive system to keep hands dry.
Managing director and inventor Tim Morgan said: "The MT Push came about following discussions we'd been having with the National Trust.
"We had met with them to show the Mountain Trike and while they loved the product and could see the real benefit of having a Mountain Trike available at certain National Trust locations, they felt visitors would be more suited to an 'attendant' style chair to make their offering more inclusive.
"After many discussions, lots of prototyping and testing I'm delighted to announce the MT Push will be our second product.
"It has been great working with the National Trust on this new product."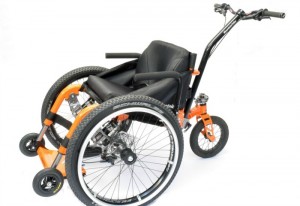 On the MT Evo,  he added: "I am confident we can help a wider group of wheelchair users get out and about enjoying the great outdoors over all sorts of various terrains.
"It's exciting times here at Mountain Trike and it's fantastic news for us to be further extending our product offering to a wider range of wheelchair users."
Roger Crawford, Mountain Trike sales & operations manager, added: "We talk to so many customers with varying abilities and it is great to now be able to offer an alternative off-road wheelchair.
"The MT Push can open up access to the outdoors for some wheelchair users who don't have good upper-body strength to propel themselves."
Rob Smith, founder of Active Hands Gripping Aids, was consulted on the design of the MT Evo.
He said: "It's been great helping Tim and it's an excellent addition to the Mountain Trike off road wheelchair range.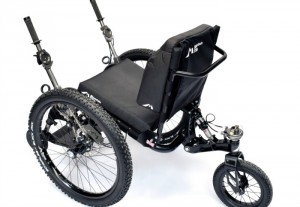 "It really is a unique piece of kit and I've no doubt the simpler control system will really help tetraplegics and quads travel over any terrain."
The Mountain Trike Company has received an order for three of the MT Push from the National Trust.
They will be available for wheelchair customers visiting Brownsea Island, in Poole.
Claire Dixon, of the National Trust Brownsea Island site, said: "Brownsea Island is thrilled to be the first to offer these for the 2015 season so that our less mobile visitors can independently explore this beautiful place."
Discussions are underway for other National Trust locations in the UK.
The company was featured on the BBC1 Countryfile programme last Sunday (April 26).
It featured a group of Trike customers enjoying rambles together and BBC's John Craven interviewed Tim Morgan about his inspiration for the Mountain Trike.