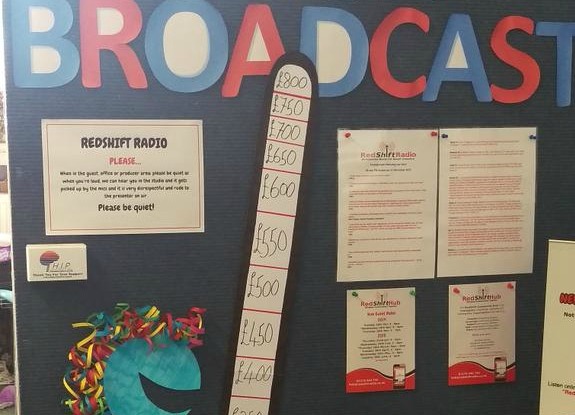 Crewe & Nantwich-based RedShift Radio is launching a monster 60-hour broadcast to raise money for the MRI scanner appeal.
The broadcast will take place from 10am today (May 22) to 10pm on Sunday May 24.
The event is being run in association with the Crewe & Nantwich Weaver Rotary Club, and money raised will also go to the Head Injured People (HIP) charity in Cheshire.
The station is now encouraging the public to get in touch and help out.
More than 60 guests are booked to appear in return for a small donation.
Liz Southall, founder of Redshift, said: "Both RedShift and Rotary are extremely passionate about helping to make a difference to the local community and these two charities are close to our hearts.
"Very special thanks must go to 18-year-old Charlotte Birch, who has organised this whole event herself for a second year.
"Last year we raised £780 for St Luke's, and this year we hope to smash the £1,000 mark."
The 2014 event saw donations of more than £50 by companies to read out a one-minute advert for them.
Clare Emerton, charity fundraiser and co-ordinator of HIP, said: "We'd like to thank RedShift Radio and Rotary for choosing HIP as one of the charities they are supporting this year.
"Almost 2,500 people a year in Cheshire suffer a head injury, so we're extremely grateful for the support from the public so far to help our fundraising efforts."
Laura Riddle, charity manager for Mid Cheshire Hospitals Charity, added: "The 60-hour broadcast is definitely one not to be missed, and will be a great event to take part in.
"The current MRI scanner is working to full capacity between 8am to 8pm, seven days a week, with around 30 patients a day being scanned.
"Successfully funding the £1 million target and procuring the additional MRI scanner will provide a number of benefits to patients, staff and the trust."
To donate during the 60 Hour Broadcast, visit www.redshiftradio.co.uk/60hour
There will also be collection buckets at the Weaver Wander as it leaves Nantwich on Saturday morning.
To listen in the broadcast visit www.redshiftradio.co.uk/player, or download the mobile app: www.redshiftradio.co.uk/mobile and to follow the fun look for #60hrs on Twitter.