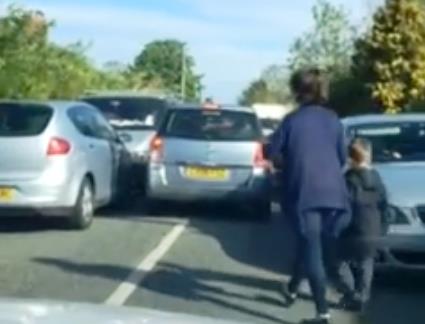 Furious parents in Nantwich have hit out as a video shows the dangerous traffic conditions outside a primary school in Stapeley.
The video, taken by a parent battling to get to Stapeley Broad Lane Primary School, shows vehicles mounting pavements and forcing parents and children into the middle of the busy A529.
The road is regularly clogged up with school and passing traffic at peak hour – and despite plans for a new school car park first launched three years ago, nothing has materialised.
The film on the Protect Stapeley Facebook page, which can be seen here, shows how cars and vans are mounting pathways and driving full length along the narrow footway.
The chaos left one mum and her young son having to walk to school by weaving in and out of vehicles in the middle of the road.
School mum Lucy Ward, who filmed the video, said: "It's another Stapeley Broad Lane school run…another tragedy waiting to happen.
"This video was taken whilst my car is stationary, engine off.
"The vehicles you see have no choice but to mount the pavements – towards the end of the clip you see one of the parents and her child caught up in the middle of it all."
Reaction was swift from furious parents.
Another mum Helen Hewitt said: "A disgrace that Cheshire East continue to ignore this danger as they can't be bothered to deal with the situation."
And Kim Madka added: "This is ridiculous now! Not sure how they can ignore this any longer!"
Julie Lilley added: "Cheshire East, I believe, have no interests whatsoever with regard to child safety otherwise they would have had a plan in place long ago."
And Stuart Manning said: "Awful is not a strong enough word here! I've not seen it this bad for a very long time."
It's believed legal complications around land ownership between the diocese and Cheshire East have caused delays to the school car park.
We contacted Cheshire East Council for a response to the video over a week ago. We are still awaiting a comment.