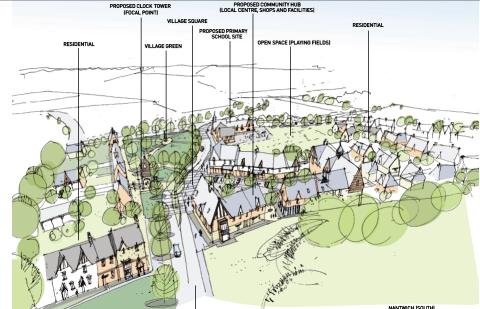 New Local Government Communities Secretary Greg Clark has reversed a decision to dismiss Muller Property Group's appeal over refusal for its "Nantwich South" development.
In March, Eric Pickles overruled a planning inspector and dismissed Muller's appeal against Cheshire East Council, which had refused permission for 189 homes and an access road.
It is the first stage of a planned 1,100-home scheme Muller wants to build on land between Peter de Stapleigh Way, Audlem Road and London Road in Stapeley.
Now the Secretary of State Mr Clark has decided to stop fighting the case, which was due to be heard in the High Court on July 14.
It means a fresh public inquiry will have to be held if Muller intends to pursue the application.
Inspector David Nicholson originally recommended approving the development, despite fierce opposition from many sides, because Cheshire East had not identified a five-year land housing supply.
But Mr Pickles found an emerging local plan from Cheshire East Council meant the real picture on housing land supply had not yet been established.
He reasoned that "it should not be assumed at this stage that the development of this good-quality agricultural land in open countryside for uses which are not in accordance with the local plan should proceed on a piecemeal basis".
But Muller claimed this was inconsistent compared to previous approaches and launched a judicial review.
A court order says the Secretary of State now accepts he did not appropriately refer to the terms of National Planning Practice Guidance (NPPG) policy.
"In those circumstances, the parties are agreed the decision falls to be quashed for failure to consider the NPPG policy," says the order.
Cheshire East councillors Andrew Martin and Peter Groves, who represent the Nantwich South and Stapeley Ward, said they were very disappointed at the Government's announcement.
In a statement, they said they are "still opposed to any development on the proposed site and that they would continue to do whatever they could to stop such development taking place".
Pat Cullen, of the Protect Stapeley campaign group, said a new Neighbourhood Plan for Stapeley should be in place before a new public inquiry.
"I welcome another public inquiry because the Stapeley Neighbourhood Plan is well underway and Stapeley residents have given their views as to what development they would like to see in Stapeley and it's not a huge block of 1,000 houses.
"Thus, their views will be part of any evidence presented to an inquiry and weight will be given to the Neighbourhood Plan.
"It's a funny old world – local residents don't want this type of development, Nantwich people don't want this development, the Town Council doesn't want it, Cheshire East doesn't want it.
"Yet because a developer and a handful of people will make a good deal of money out of it, we have to go through this process that is heavily stacked in favour of developers."
Cheshire East Council says it stands by its original decision to refuse permission for this development.
A spokesman said: "It is disappointed that the Treasury Solicitor has decided the Secretary of State should no longer contest the legal issue in the High Court.
"Unfortunately, this means that a fresh public inquiry will have to be held if the developers wish to proceed with their application."
Council Leader Cllr Michael Jones said: "Naturally we are always disappointed when people change or move away from their earlier decision, as in this case.
"As a council we will continue to resist unsustainable and unfavourable greenfield development.
"Counsel has been retained by the authority to take care of all eventualities arising from this situation."