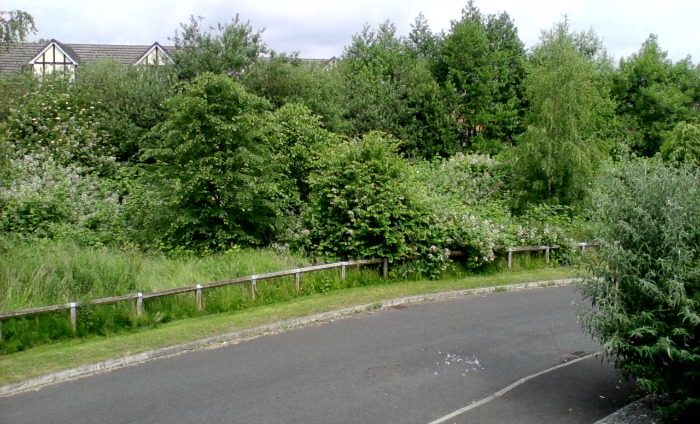 Residents in Nantwich are calling on housing firms and council chiefs to sort out an overgrown plot of land left unmaintained for 13 years.
People on Saltmeadows Street, off Marsh Lane, say a large strip of land opposite their homes has been left without maintenance since 2002.
But despite appeals to housing developers who built the estate 13 years ago, and to local councillors, residents say no one is taking responsibility.
Tony Hunt, who lives on Saltmeadows, said original plans when Linden Homes built houses suggested the land would be left as an "amenity area".
"It is overgrown with brambles and weeds of all description, which is not surprising when left to nature to run wild," he said.
"Even the Saltmeadows street sign is now `invisible` due to the brambles!
"The plans we were shown indicated this strip of land, which runs alongside a stream, was to be left as an amenity area with some tree planting, seats and a footbridge across the stream all to be enjoyed by the new home buyers."
But now Tony, who bought his house new in 2002, says the land is an eyesore which has attracted rats, and is used as a 'dog toilet'.
"Last year we had a rats' nest in our garden which the pest control officer eventually removed.
"He thought it would have come from this strip of land.
"It is also used as a "dog toilet" numerous people bring their dogs here, in vehicles, just to let them loose in the undergrowth.
"There is a steep, high slope of land leading down to the stream from both sides, which has no protective fence.
"Local children use it as a play area, which in our view is not only dangerous but unhealthy."
It's believed land on the other side of the stream was bought and developed by another housing firm, said Mr Hunt.
Nantwich Town Cllr Arthur Moran has taken up the case, and persuaded a highways official from Cheshire East to visit the site.
Cllr Moran added: "It's like a lot of other bits of land around the town, where developers have moved on and they just leave these bits behind, and no one takes responsibility.
"It's a no man's land and really needs to be sorted out. It's always been in dispute, but if Cheshire East want to open up Taylor Drive to improve access to Welsh Row, then the ownership of this land needs sorting."
Nantwichnews has contacted both Cheshire East Council and Linden Homes, and they say they are looking into the case.