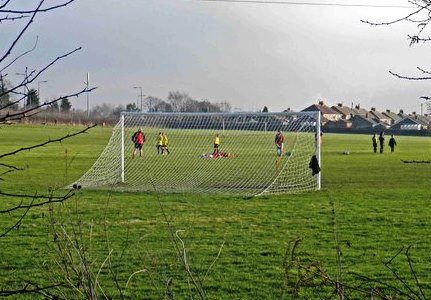 Premier Division champions Railway Hotel took just two minutes to open the scoring against newly promoted Leighton in their 2015-16 opener.
They were two up in eight minutes and eventually won 6-0 with goals from Mellor (3), Brookes, Dawson and Scarlett.
In other Crewe Regional Sunday Premier clashes, NHB came from behind to beat Sydney Arms (Owen), with goals from Buckley and Alex Ball, one of four brothers all playing for NHB.
Newly-promoted Salvador started the campaign with a 3-1 win over AFC Barkode with Edge (2) and Banks scoring, Roberts replying for AFC Barkode.
Talbot found Crewe Athletic too hot to handle going down 6-1, Crewe Ath scorers were Rowley (2), Clark (2), Sinnott and Amson with Hammersley netting for Talbot.
Newly promoted Rising Sun found Square One to be too strong, losing 0-5.
Scorers for Square One were Newton, Griffiths, Dodd, Jarvis and Ledwards.
A late penalty from Asher Moat gave Willaston White Star a 3-2 win at AFC Leopard, whose scorers were David Johnson and McArdle. Blundell and Evans also netted for Willaston.
In Division One, new club Market Tavern had a day to forget, losing 13-0 to Haslington Villa, whose scorers were Roberts (3), Weaver (3), Dale (2), Dan Taylor, Simon Taylor, Mahoney, Bennett and Wolstencroft.
Another new club who started with a defeat were Betley, who lost 5-4 to Sandbach Town.
Fisher, Wheeler, Baker and Murisa scored for Betley, whilst the Sandbach scorers were Lamb 2, Callaghan, Huff, and Darren Bailey.
Newcomers Brunel Arms were leading at half-time thanks to a goal from Thomas but Wistaston United eventually won 3-1 thanks to goals from Mc Connell, Gater and Mcgraw.
The only new team to win were AFC Alsager, who beat Faddiley 6-4.
Hylton, Beresford, Emerton and Stokes netted for the visitors, who managed to miss two penalties.
Crewe FC (Riley and Cartwright ) lost 2-3 to Boot and Shoe Villa (Roberts, Beresford, Latham), whilst Nantwich YF had a comfortable 6-1 victory over Audlem.
Eardley scored a hat-trick, along with goals from Dave Vernon, Adam Vernon and Sanders.
Veteran Andy Betteley netted for Audlem.
Ocean and Bank Corner drew 2-2, Cork and Vanes netting for the visitors.