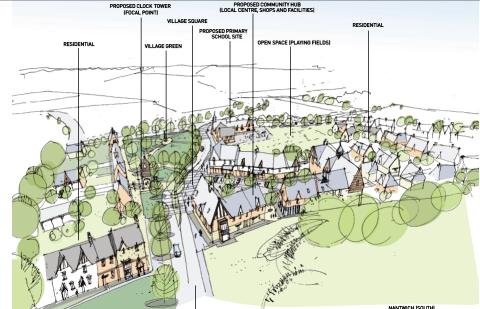 Campaigners are urging Secretary of State Greg Clark to put "residents before profits" when deciding on the controversial Muller Homes appeal in Nantwich.
Mr Clark has now written to interested parties, stating there will not be a second public inquiry into the application by Muller.
The former Secretary of State Eric Pickles had thrown out Muller's appeal, but Mr Clark quashed that decision after Muller launched a judicial review.
Now Mr Clark says he will make a ruling on the application before November 17.
Pat Cullen, who runs the Protect Stapeley campaign group, said: "The Secretary of State feels that a new Public Inquiry is not required.
"A Public Inquiry would look at a specific application whereas the Secretary of State can look at the whole housing picture in and around Nantwich.
"I am hoping he will see past the myriad legal arguments put forward by Muller relating to planning case law, 5 year land supply and planning policy, and take in to account the wishes of local people.
"After all, Edward Timpson was re-elected to express the views of local people.
"I hope that Greg Clark will put residents before developer's profits."
Muller submitted two planning applications to Cheshire East Council – to build 189 homes in the first phase of the 1,100 "Nantwich South" development, and to build an access road to the development off Peter de Stapleigh Way.
Cheshire East rejected the applications, Muller appealed and an inquiry was held in February 2014.
In Mr Clark's letter, it states: "The Secretary of State has given careful consideration to all the representations before him, on the basis of which he is of the view that there are no substantive issues that require the inquiry to be re-opened.
"In accordance with Schedule 2 of the Town and Country Planning Act 1990, the Secretary of State will issue his decision in this case on or before 17 November 2015."