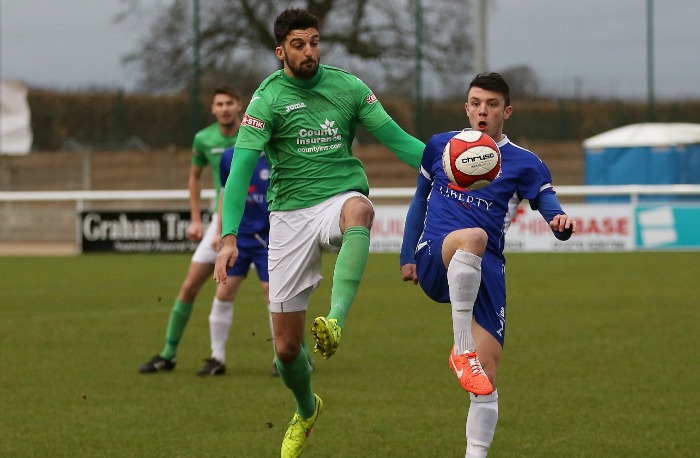 When Nantwich Town were drawn to face Stockport County in the FA Trophy, it brought back happy memories for Dabbers defender Mat Bailey.
Bailey played for the Hatters between 2003 and 2005 when they were a League One side.
Now the centre back is looking forward to returning to Edgeley Park.
He said: "I really can't wait to go.
"It's been a few years since I've been to Edgeley Park and I've got some very good memories from my time there from earlier in my career.
"So it's something I'm really looking forward to."
Bailey was with Nantwich as a youngster and he went from Jackson Avenue to join Stockport and test himself at a higher level.
"I played against Stockport in the Cheshire Senior Cup in the 2002/03 season.
"The manager for Stockport was Carlton Palmer and he was playing in the game and I scored a diving header against him.
"I think from there he decided he wanted to take me.
"I was 16 at time and back then I was the same size that I am now – and a little bit leaner!
"I was a striker back then and he signed me on a three-year deal.
"But things didn't go exactly to plan as in three years I had three managers.
"Obviously I had Carlton, who signed me, Sammy Mcilroy and then Chris Turner who in the end got rid of everyone and I had to start again at Northwich Victoria and I kicked on from there.
"I but I honestly can't wait to go back to Edgeley Park. For me it's got nothing but good memories for me."
The game will also allow the Dabbers to showcase their skills against a higher league club with Stockport County plying their trade in the National League North.
Some might be put off by the size of a club like Stockport.
But Bailey doesn't think it will effect the Dabbers.
He said: "I think all the lads we have got they will not be fazed by it all at.
"Obviously, it will be a different game to what we played the other day against Hyde United.
"But we know we can play football and especially on a good pitch like Edgeley Park we can show what Nantwich Town can do and I think it's good to be able to play on good surface as like the pitch at our place it will allow us to get the ball down on the ground and allow us
to play."
Bailey is also hoping for an excellent performance from those in the stands as the Dabbers look to the fans to be the 12th man to guide them onto victory.
With a 49-seater coach running from the Weaver Stadium for the fans, and many more making their own way to North Cheshire, the Dabbers will be well supported.
Bailey said: "They are going to be there in number, I think they are the best non league fans out there.
"No matter the weather is. It could be blowing a gale, freezing cold or snowing, you always know they are going to be there backing you.
"They are always singing and making a noise and at every game the drum is out which gets people going. It's fantastic to hear when you are on the pitch.
"They are the 12th man and they will be able to help us get the win against Stockport County."
And with that backing, Bailey is convinced they can pull off a shock.
"I think we can beat anyone in non-league.
"I think on our day we have got enough quality in our team to beat anyone.
"Obviously we need to keep going with our performances.
"We have got more solid at the back and I think now we have the capability of beating anyone."