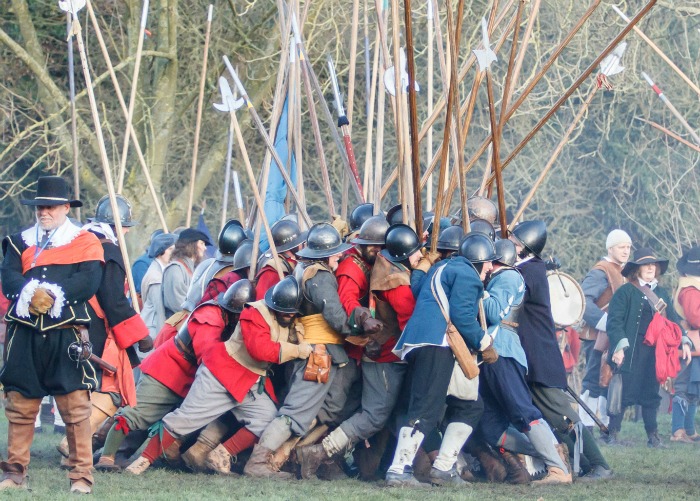 Organisers of the "Battle of Nantwich" Holly Holy Day event hope it will not be washed out by the heavy rain and flooding.
Prolonged wet weather has left River Weaver very high, and ground conditions saturated on Mill Island.
But organisers say the event, scheduled for January 23, is still set to go ahead and have fingers crossed for drier conditions.
They are also confident a new drainage system installed on Mill Island a couple of years ago will work.
Holly Holy Day commemorates the 1644 Civil War Battle of Nantwich, which lifted the month long siege of the town.
There is a programme of events and attractions across the town, culminating in a parade of Sealed Knot soldiers into the town and a re-enactment of the Battle on nearby Mill Island.
High river levels have put the event in jeopardy in previous years, but have never yet caused a cancellation.
Holly Holy Day vice chairman Shaun Cafferty told Nantwichnews: "The River Weaver is very high at the moment after all the heavy rainfall in the area, and the ground is very soggy.
"But there is more than two weeks to go yet.
"It's been similar in other years, but we have always found a way to stage the event.
"It's a much-loved Nantwich tradition and we will be working hard as always to see that it continues.
"The Sealed Knot soldiers assure me they will fight in any conditions, and it would take a brave man to stop them!
"We will undertake an assessment as we always do on the day before, and decide what steps we need to take to ensure the safety of spectators on Mill Island itself."
Mr Cafferty feels the event has become less weather dependent in recent years, thanks to a variety of spectacles in the town from mid-morning onwards.
"We have a Living History exhibition under canvas opposite the church, where you can see how people lived back in 1644.
"Nantwich Museum is housing a musketry demonstration, followed by period music played on replica 17th Century instruments.
"There will be various singing and dancing on the stage in the centre, before the troops parade into town at lunchtime.
"As always, the Nantwich Players will perform a drama piece which will conclude with some poor soul being put in the Pillory to face a barrage of soggy cabbages!
"All around the town, there will be Morris Men, Plough Witches and the Mounted Troopers, so there is a lot more to Holly Holy Day than just the battle."
Click here to view a full programme of events on Holly Holy Day, January 23.
(pics courtesy of Simon J Newbury Photography)