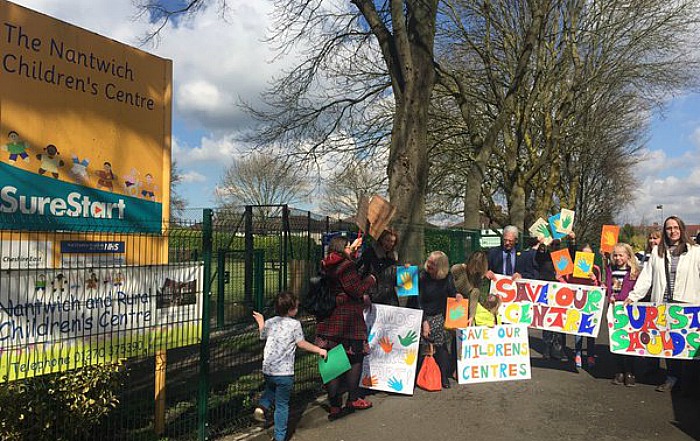 Campaigners calling for Cheshire East Council to reconsider a decision to close Nantwich Children's Centre, gathered outside the centre to protest today.
Local mums, children and town councillors met outside the popular Dog Lane venue to voice their campaign ahead of a council Children and Families Scrutiny meeting on Monday.
And Friends of Cheshire East Children's Sure Start Centres plan to deliver a report to that meeting highlighting 22 challenges against the council's plan to close four centres.
Challenges include criticism of the public consultation process, use of existing and other funds, clawback of capital grants, lack of footfall analysis and other research into the closure plans.
Cheshire East Council passed the decision to close and replace Nantwich and three other children's centres in the borough with mobile centres, at a recent full council meeting.
Labour councillors lost a proposal to use £500,000 of government funding to keep the centres open, with councillors voting 40 to 30 against the proposal.
Cllr Arthur Moran, Independent for Nantwich North and West, joined campaigners today (March 31) along with fellow Independent Cllr Penny Butterill.
He said: "The Children's Centre is very well used by the residents in Nantwich and for the rural areas as well.
"It's going to impact on a lot of families.
"We were promised when the decision went through that the decision would be fully scrutinised by the Children and Families Committee.
"We want to start that scrutiny from Monday onwards and I hope when we start that scrutiny we will hopefully change Cheshire East's decision."
Nantwich resident and mum Sally Handley started to use the children's centre when she moved to the town without knowing anybody in the area.
She said: "Nantwich Children's Centre helped me and my family at a time when we needed somewhere to go without having a community of people around us.
"I spoke to the Sure Start Children's Centre and they helped.
"They told me to come down and introduced me to the playgroups and classes.
"It was good to know that there was somebody there for us.
"Motherhood can be potentially isolating.
"These centres are an opportunity to meet other families, single mothers, single dads and grandparents.
"What is important about this centre is that it's always there for you."
One suggestion made by Cheshire East was to replace the Children's Centre with a mobile van service.
But Sally added: "I don't want to go to a breast-feeding class in a van parked at the end of my road.
"There's already such a stigma attached to breastfeeding in public as well as pressure on mothers to breast feed.
"People just aren't going to get into a van for support on this.
"We want Cheshire East to listen to us on Monday at the scrutiny committee and re-visit the decision."
(pic by Kirsty Rollings)