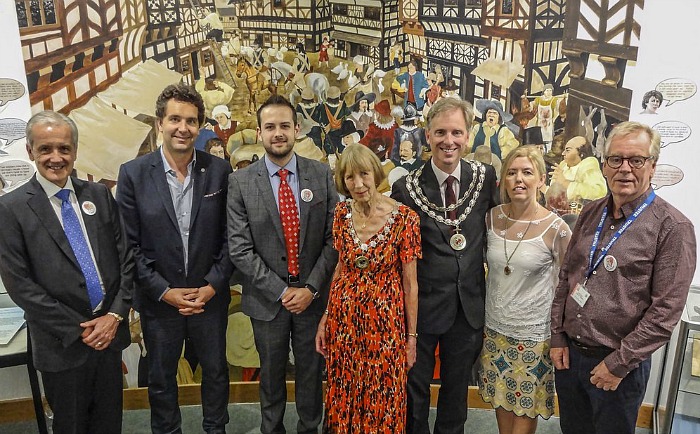 The new "Nantwich Besieged" exhibition at Nantwich Museum is proving a popular attraction for visitors.
The exhibition recalls the impact of the English Civil War in the locality.
Mayor of Nantwich Town Council Cllr Andrew Martin unveiled one of the centrepieces at the start of the exhibition – depicting the scene in the town square as the townspeople prepared for attack by the Royalists.
He was joined by Cllr Norma Simpson and Crewe and Nantwich MP, Edward Timpson.
David Pritchard, of Applewood Independent, was also present.
The company has sponsored a large-scale model depicting for the first time the scene on the day of the Battle of Nantwich – 25 January 1644.
Prepared and installed by the museum's Research Group, the exhibition examines some of the local realities of the war.
It reflects the conflicting views of the Crown, Parliament, religious interests and a general reluctance towards the conflict.
Life is examined through the eyes of four fictional characters – a lady from the upper echelons of society, a felt maker, and two young people who comment on aspects of life at the time.
The exhibition outlines the key trades in the town, identifies key characters of the conflict, how it developed, how the town defended itself and events in the lead up to the siege and its relief through the Battle of Nantwich.
There are lavish illustrations by museum artist Les Pickford, including a mural depicting the scene in the town square as the threat of siege became real.
This is accompanied by an audio visual developed by museum photographer Paul Topham.
And there are displays of artefacts of the time, replicas and authentic clothing.
Thomas Malbon was a lawyer who wrote a diary of local events during the Civil War.
The diary still exists and is a key exhibit, enabling visitors to read about key events as recorded by one who witnessed first hand the siege and relief of Nantwich.
A series of talks considering various aspects of the conflict include a Battlefield Walk and Talk, Maps and Models, Coin Hoards, Events at Barthomley, Sir William Brereton and Stained Glass, some local examples of which depict the Civil War.
Three town walks will focus on Civil War events.
Admission to the museum and exhibition is free. It runs until September 17.
Contact Nantwich Museum on [email protected], call 01270 627104, visit www.nantwichmuseum.org.uk
(Pic: left to right – David Pritchard of Applewood Independent; Edward Timpson MP; Alex Pritchard of Applewood Independent; Cllr Norma Simpson; Mayor of Nantwich Cllr Andrew Martin; Mrs Linda Martin; Chair of Museum Trust Nick Dyer)