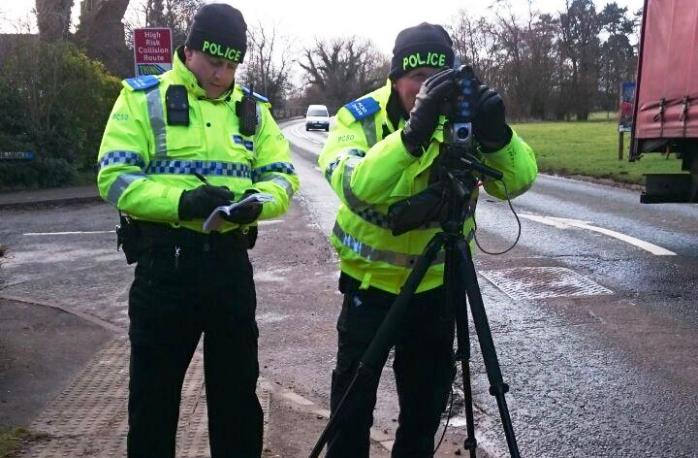 More than 900 drivers were caught speeding in a month-long campaign to combat anti-social driving on Cheshire's rural roads.
Around 40 rural locations across Cheshire were targeted following concerns raised by local communities.
And in Crewe and Nantwich area, 178 community Speedwatch letters were sent to rogue drivers out of a total of 232.
Drivers were also stopped for driving without wearing a seatbelt, drink and drug driving, as well as driving using a mobile phone.
As well as those caught on camera and fined, and the 232 motorists who received a community SpeedWatch letter, another 66 drivers were given verbal warnings.
Sgt Anthony Gallagher, Cheshire Police roads policing unit, said: "It's really important we ensure the safety of all our roads across Cheshire, in particular on the large number of rural roads we have.
"More than 40 people have been killed on our roads in the past 12 months.
"More than 400 people were seriously injured, with speeding, drink/drug driving, distraction and not wearing a seatbelt being the fatal four killers.
"By working with the community, it has enabled us to identify which of these roads are of specific concern to residents and ensure we are targeting those who don't abide by the speed limit, or are driving while using a mobile phone.
"I want to thank businesses and local residents who have supported this operation and helped to make our roads safe.
"This operation may have come to an end but the work of officers to target those who drive anti-socially does not stop and we will continue to make the roads in Cheshire safe."
Police and Crime Commissioner, David Keane, said: "It's important the Constabulary listens to community concerns about road safety in rural areas, as shown by this month-long campaign aimed at tackling head-on anti-social driving on our rural roads.
"These results show a high number of drivers are not using the roads safely by not abiding by the speed limits and it is a priority to ensure the roads in Cheshire are safe for all drivers and the community.
"When I spoke to people during my Police & Crime Plan consultation, one of the recurring themes was road safety, and I anticipate that it will be one of the priorities in my forthcoming Police & Crime Plan."