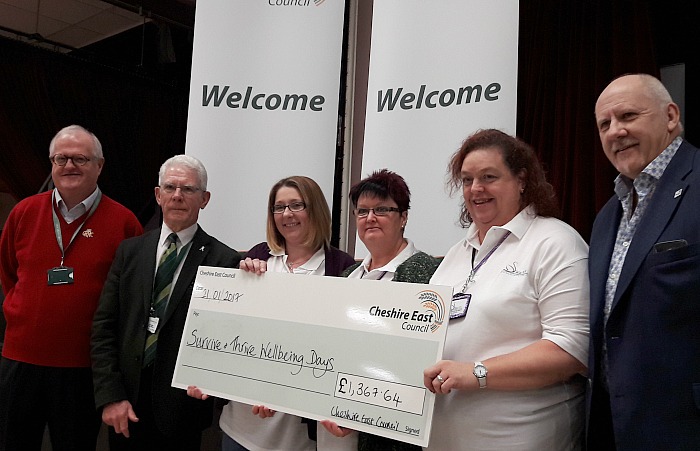 Nantwich community projects are to benefit from £20,000 of funding to boost local health.
Ten community projects shared the pot from Cheshire East Council after an event at Nantwich Civic Hall saw groups pitch their ideas and receive a public vote.
All 10 projects, including Survive and Thrive Wellbeing Days (pictured) and Audlem Community Fitness Club, will boost the health and wellbeing of people in Nantwich.
The 'You Decide' event allowed organisations or individuals to put forward ideas that would make a difference to local people.
Twelve projects were considered with presenters given three minutes to demonstrate why their project deserved funding.
The result was decided through a public vote.
The event was attended by 150 people and hosted by Cllr Paul Bates, Cheshire East Council cabinet member for communities and health.
Cllr Bates said: "This pioneering way of funding projects gave residents in Nantwich a chance to take control of how money is spent by voting on projects they felt would make a difference to their local area.
"I was extremely impressed by the energy and community spirit on the day both from presenters and attendees, and the networking which took place between the wide range of local groups involved.
"It was great to see groups chatting together and connections were made, which I am sure will ultimately result in even more new projects across Nantwich."
Those who did not earn a grant will receive help and support to access different funding streams.
The event was also attended by Nantwich councillors Arthur Moran and Peter Groves, who presented cheques to successful projects.
Projects will be monitored by the council and community representatives.
The successful Nantwich projects were:
– Let's get active – supporting children with disabilities central Cheshire buddy scheme
– Audlem Community Fitness Club – Audlem public hall
– Store Room – Nantwich food bank
– A Cycle Map for Audlem and District
– Integrated All Age Community Activity for Older People (Audlem and District Community Action)
– Dementia Friendship Group – Nantwich Museum Trust
– Parent Carer Support Nantwich – Cheshire and Warrington Carers Trust
– Survive and Thrive Wellbeing Days – supporting wellbeing and nurturing strength
– Time For Me Carer Breaks – Carers Trust 4All
– Dementia Friendship Group – Nantwich Museum Trust
Stapeley Parish Action Group was also awarded £900, for their scheme to properly mark up and maintain footpaths around Stapeley.
They received more than 90% of their requested amount so the project can go ahead.
(Pic: Nantwich Cllrs Groves and Moran and Cllr Bates with Survive and Thrive Wellbeing Days community group)