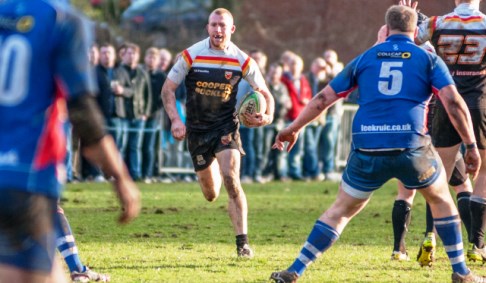 Crewe & Nantwich RUFC 1sts are facing a relegation scrap after another narrow defeat left them second from bottom.
The Vagrants club – playing in their highest ever league – are now gearing up for a crunch game at home to Dudley Kingswinford this weekend.
Crewe have nine matches to save their Midlands 1 West league status, with a number of other teams also in the relegation mix.
They were unlucky to lose 20-18 against Worcester last Saturday (January 21), and have a strong home record.
However, it's on the road that Crewe & Nantwich have struggled, with nine defeats in nine away matches.
Director of rugby Andy Brown said: "The 1sts and 2nds are in the highest leagues that the club have ever achieved and the standard of rugby is excellent.
"It is only 5 or 6 years ago that the club was playing teams who only ran one team!
"We have come a long way.
"The 1st team is the best squad of players I have ever seen at the club and there is no way they should be in this position.
"On their day, they can beat anyone in this league and they have proved that conclusively.
"But they are losing games they should have won and Saturday was a good example.
"Winning is often a habit for successful teams and I have played for some C&N teams that won every week and sometimes the team played badly but still won."
Crewe & Nantwich 2nds are facing a similar uphill battle in the run-in.
After seven straight defeats, they have slipped to fourth from bottom just three points above the relegation places.
"The 2nds also have a great squad of players but continuity of availability has been dreadful, so the team has never been able to settle," added Brown.
"61 players have played in the 2nds so far and 10 changes per week is not uncommon.
"We have some great individual players but rugby is a team game, so different combinations each week against strong opposition is not a winning formula and the losing habit raises its head yet again.
"The away form for both teams has been terrible.
"So I think we need to look at the games away where we stand a realistic chance of winning and target them ruthlessly and any points gained in other away games are a bonus.
"Every home game is winnable. But we need everything right at the Vagrants and everyone pulling together."
Brown has called on the local support to help in the run-in for both teams.
"We need big, big crowds and it is really important that you are there," he added.
Kick off this Saturday for the 1sts against Dudley Kingswinford is 2.15pm.
The 2nd team have a difficult game away at Wirral who are second in the league.