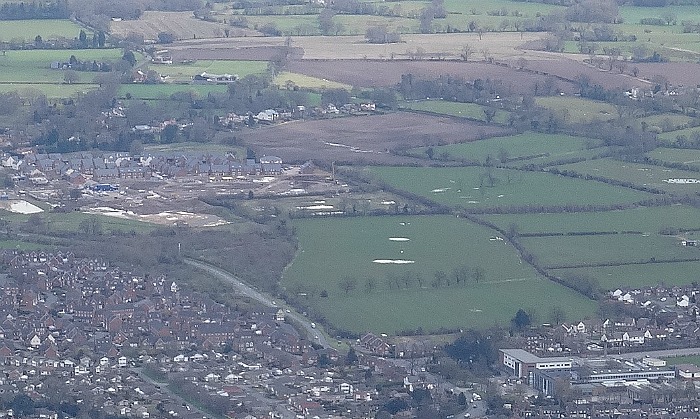 A High Court judge has thrown Muller Property a lifeline in their bid to build a controversial 1,100-home 'Nantwich South' village in Stapeley.
The judge has quashed a decision by the Secretary of State last August which had refused Muller's attempt to overturn Cheshire East Council's original rejection of the development's first phase.
Now the Secretary of State for Communities and Local Government Sajid Javid will have to review the case once again.
In a letter seen by Nantwichnews sent to "interested parties", it refers to a "Consent Order issued by the High Court on 14 March 2017, quashing the decision of the Secretary of State contained in his letter dated 11 August 2016".
The letter, sent on behalf of the Secretary of State, asks for representations on:
– Progress of the emerging Cheshire East Local Plan Strategy
– The current position regarding the 5 year supply of deliverable housing sites in the Council's area
– Any material change in circumstances, fact or policy, that may have arisen since his decision of 11 August 2016 was issued and which the parties consider to be material to the Secretary of State's further consideration of this application.
It's the latest twist in a five-year saga since Muller first unveiled its plans to develop land between Peter de Stapleigh Way, London Road and Broad Lane.
They want to create a 'Nantwich South' village of 1,100 homes, school, business and retail units and village green.
The first phase – 189 homes and access road off Peter de Stapleigh Way, was refused by Cheshire East Council in 2013.
It prompted a public inquiry held in 2014. A year later in March 2015, then Secretary of State Eric Pickles found in favour of Cheshire East.
But Muller appealed to the High Court in summer 2015 and the case was returned to new Secretary of State Greg Clark to review.
Eventually, the Government returned a decision in August 2016, again rejecting Muller's appeal, prompting the company to again seek a High Court ruling.
Pat Cullen, of the Protect Stapeley campaign group, said: "I have not seen the High Court papers so I don't know on what grounds the decision was quashed.
"However, it is a strange planning system that, in effect, allows a High Court judge to decide on housing developments.
"It is a disappointment but things have moved on since the previous August decision.
"I am optimistic that the emerging Local Plan will have a significant influence on any new decision by the Secretary of State."
Cheshire East Council was unavailable for comment today.
(pic by Jonathan White)