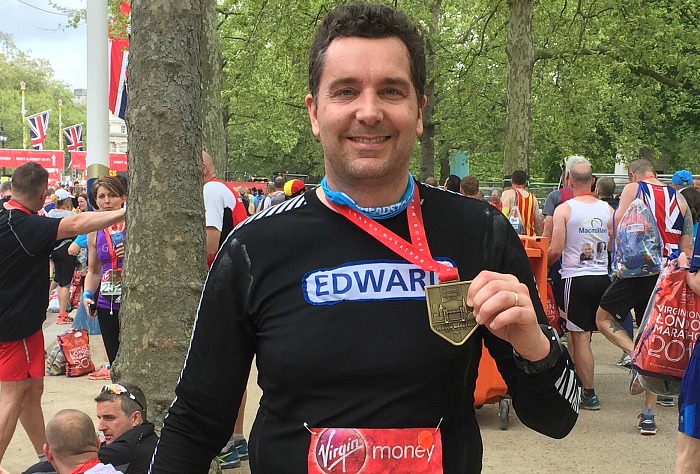 Cheshire MPs Edward Timpson and Graham Evans teamed up to complete the London Marathon in aid of Muscular Dystrophy UK and The Army Benevolent Fund.
Mr Timpson, Crewe & Nantwich MP, completed his 12th London Marathon in a time of 3hrs 57mins 51secs.
He ran with Weaver Vale MP Graham Evans.
The Army Benevolent Fund supports soldiers and veterans from the British Army, and their immediate families.
It makes grants to individuals through regiments and corps, and supports specialist charities that sustain the British Army 'family' at home and around the world.
Muscular Dystrophy UK fights more than 60 rare progressive muscle-weakening and wasting conditions, affecting around 70,000 children and adults in the UK.
It supports research to effective treatments and cures, as well as services and resources to help people live independently.
Mr Timpson (pictured) said: "It's a great way of raising money for – and awareness of – good causes, and getting fit for the General Election campaign ahead!
"Also I've got a bit of a reputation for it now, so I suspect people would ask why I didn't run them any more if I stopped!"
Mr Timpson will be standing for Conservatives in the Crewe and Nantwich seat at June 8 General Election against Labour's Laura Smith and UKIP's Michael Stanley.
Other candidates are yet to be announced.
To donate to Mr Timpson's run appeal online, visit www.edwardtimpson.com/sponsor