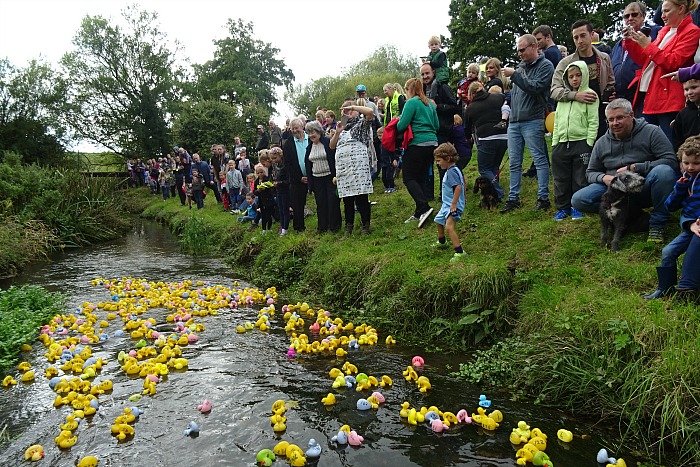 Wistaston's ducks made a comeback after their original race was called off – because of wet weather!
Hundreds of villagers were back out in force this weekend for the re-scheduled event, and had a quacking time at the Joey the Swan recreation ground.
The annual event, organised by members of the Wistaston Community Council, features the children's boat race as well as the rubber duck dash.
It was officially opened by the Wistaston Rose Queen Jessica Doano and her attendant Elise Kennerley.
Forty-four model boats were entered into the Children's Model Boat Race and 640 plastic duck race tickets (£1 each) were sold and entered into the Duck Race.
Proceeds will go to the funds of Wistaston Community Council, Wistaston Memorial Hall & Community Centre, and local charities.
There were also 15 stalls featuring local charities and organisations, selling an assortment of goods or advertising their activities.
The sponsors were Wistonia Electrical & Security Ltd with a generous local charity donation from the new Wistaston Co-op.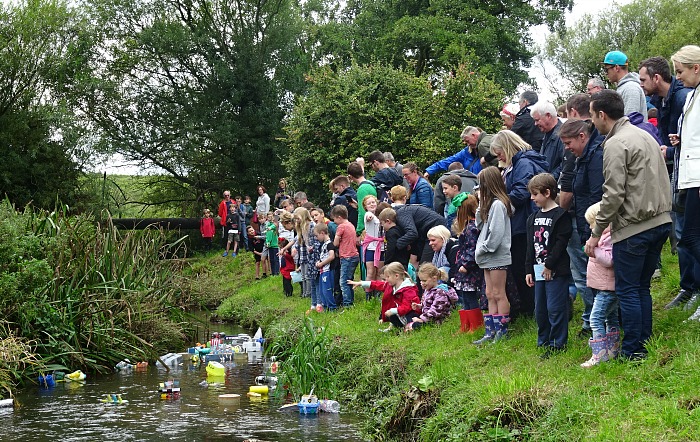 Race results in full:
Children's Model Boat Race (44 model boats entered):
a) Best designed children's model boat (judged by Wistaston Rose Queen, Jessica Doanoand her Attendant, Elise Kennerley):
1st – 'Bluetorpedo' by Ollie and Toby from Wistaston who won £10 and a trophy. They said: "We like our boat. We hope it will be the fastest boat".
2nd place –'The queen of hearts' by Mia.
3rd place –'Viking longboat' by Harry and Isabelle.
b) Children's Model Boat Race:
1st –Jessica Chesters who won £10, plus a trophy donated by Herbert Locke MBE.
2nd place –Wilson Hadzik who won £8.
3rd place –Perdita Jones who won £6.
Duck Race:
1st – No.283 – Natasha Nuttall who won £100, plus a trophy donated by Les Fothergill, a past Wistonian of the Year.
2nd – No.467 – Liah Wood – £50.
3rd – No.623 – Maisie Pownall – £25.
There was enthusiastic commentary by Dane Chaplow, with ongoing excitement and incident around every corner as ducks and boats bobbed and weaved along the obstacle course.
A spokesman from Wistaston Community Council said: "This was our first attempt at organising the Duck Race, which has been a popular, community event for 22 years.
"We were able to follow the long-standing procedures from the past and thank, most sincerely, all the volunteers who made it a quacking success.
"We were pleased that it was a sunny day, following the wet postponement on September 9.
"We are so grateful to the sponsors – Wistonia Electrical & Security Ltd, the new Wistaston Co-op and Crewe Movie Makers."
(Pics and words by Jonathan White)