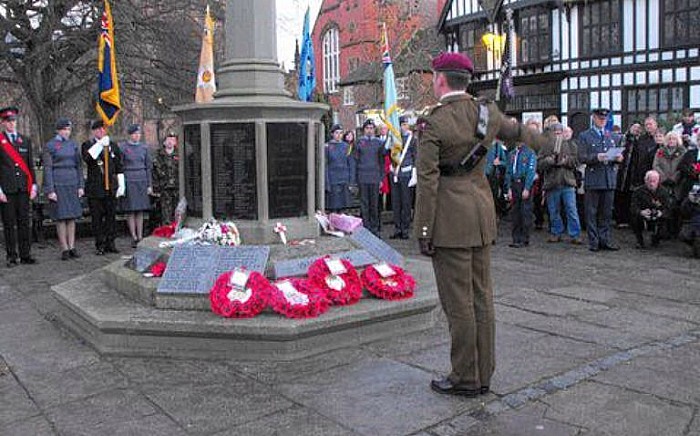 Thousands of people attended Remembrance Sunday parades or paused in silence wherever they were to honour those who gave their lives in battle.
Remembrance parades took place in Nantwich, Crewe, Wistaston, Bunbury and other villages around the region.
Players and supporters at sporting events around the area, including rugby at Crewe Vagrants and a number of Sunday football matches, paused to honour the two-minute silence.
In Nantwich, a procession took place from Civic Hall to town square before a service in St Mary's Church, followed by wreath laying at the War Memorial.
Civic dignitaries were joined by Scouts, cubs, beavers as well as members of the Royal British Legion, and members of the emergency services.
Hundreds of onlookers joined in the two-minute silence to pay their respects on the square.
More than 1,000 people joined the Crewe parade through the town followed by the Remembrance service on Memorial Square.
The Parade Marshall was M. Kay QCBC COLDM GDS RBL, the service was led by the Reverend Ken Sambrook, with a Bible reading from Councillor Simon Yates, Leader of Crewe Town Council.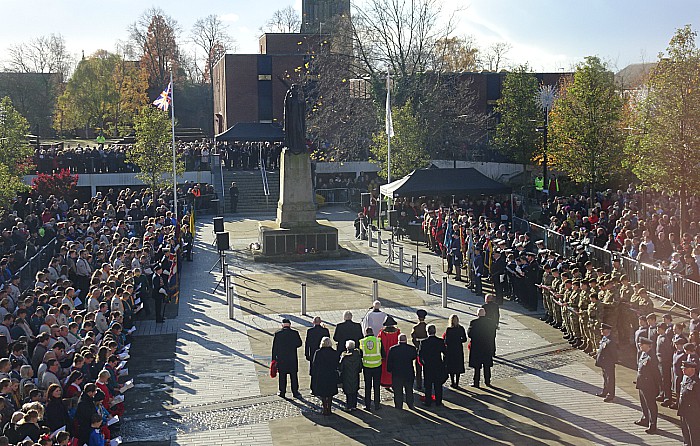 There was the sounding of the Last Post, a two-minute silence, and hymns.
Several local organisations, groups and schools were present and laid wreaths during the ceremony.
The music was performed by Crewe Brass Band and TheFunkyChoir.com
And in Wistaston, The Wistaston Memorial Hall and Community Centre was filled to capacity for the village's Remembrance Sunday event.
A guard of honour was organised by Beavers, Cubs and Scouts from the Wistaston Scout Group, who welcomed Parish Councillors from Wistaston.
The Service of Remembrance was taken by three local ministers – Rev Mike Turnbull and Rev Ken Sambrook (St Mary's Church) and Rev Denise Harding (Wells Green Methodist Church).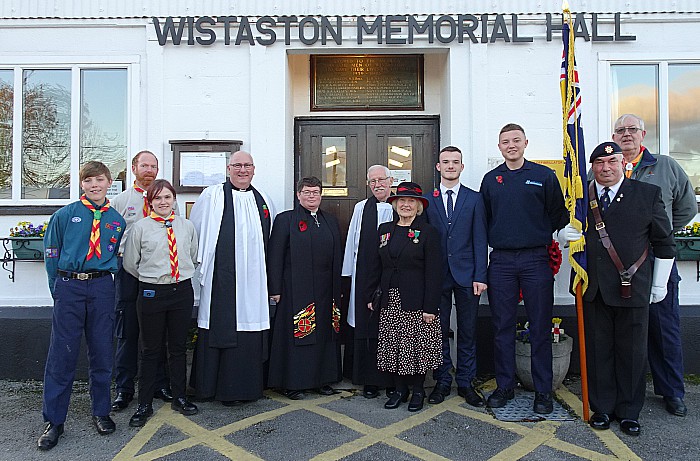 A poppy arrangement was displayed b Elizabeth Russell, of WistastonFlower Club, and the names of the 16 men from Wistaston who died in World War 2, were read by Barbara Brereton.
The Wells Green Church choir, led by musical director Myra Wood, added quality to the music and hymns.
Jack Gresty played 'The Last Post' and 'Reveille'. His great uncle, Radio Officer Derek Aubrey Gresty, died at Bari in Italy on 3rd May 1944 aged 24.
A wreath was placed at the front of the building by the hall's President, John Cooke, accompanied by Scout George Edge-Robinson who placed a cross in memory of Lieutenant Commander Roy Berryman Edwards DSO, sent by his daughter Sylvia Hammond, from Kent.
Hall chairman John White paid tribute to one of Wistaston's 16 fallen heroes.
Lance Sergeant George Powell, Royal Corps of Signals, who died on Monday 27th May 1940, aged 21, during the Dunkirk Evacuation.
He lived on Broughton Lane in Wistaston. He is buried in Hazebrouck Communal Cemetery, France.
The collection at the service was £315.67 for the Royal British Legion.
(Words and pictures from Crewe and Wistaston by Jonathan White)
(Pictures from Nantwich/Bunbury courtesy of @PoliceNantwich and Reaseheath College)