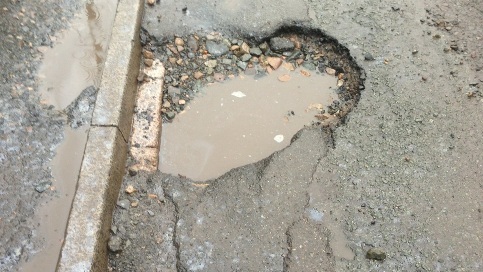 Angry residents have called on action from Cheshire East highways to fix the growing tide of potholes plaguing the streets of Nantwich.
Highways bosses claim the weather conditions have caused the "increase in the number of potholes" this winter.
But many feel not enough is being done to fix holes posing a danger on many major routes, including the A500, A530, A529, A534 and A51.
Some other pothole locations reported by readers include:
– Beam Street by Nantwich bus station
– Cheerbrook Road junction with Wybunbury Road
– Outside Shavington social club
– Millstone Lane by roundabout
– A500 approaching Shavington and Cheerbrook roundabouts
Other main routes tweeted by readers including Audlem Road and Whitchurch Road.
Nick Wright said: "You could lose a small hatchback in that pothole by the bus station!"
Alan Southern added: "Highways say that all potholes have been looked at but not a danger to roads users – say that to someone on a bike or car."
Geoff Edwards said: "You will soon lose a bike down some of them as they get worse each time you see them."
Others say car tyres and bikes have been damaged by hitting potholes.
Dave Irvine said: "I lodged a complaint with Cheshire highways with a pothole which caused substantial damage to the wheels on my road bike, sufficient evidence of negligence and still fobbed off!"
The scale of the problem is similar to 2013.
That's when Nantwich News revealed the number of claims made by motorists against Cheshire East for pothole damage had doubled in a year, and the amount paid out in compensation had trebled.
Cllr Glen Williams, Cheshire East Council deputy cabinet member for highways, said: "As is normal at this time of year, a combination of sub-zero temperatures and heavy rain has led to an increase in the number of potholes and road surface issues being reported.
"As a result, Cheshire East's highways has directed additional resources towards this and our teams are working hard to deal with the problem on a priority basis.
"Our strategy is to keep our road network safe during winter through permanent pothole and patching repairs.
"We programme larger repair schemes for the summer months, when weather conditions improve.
"Over the last four years, we have invested £35m to keep our roads in good condition.
"We want our roads and footpaths to be safe for motorists and pedestrians and we hope that they will understand that recent weather conditions have had an exceptional impact on the condition of these surfaces."
Members of the public can report issues directly online at www.cheshireeast.gov.uk/highways or by calling 0300 123 5020."
Send in your pictures of the worst potholes where you live, and we'll feature them online and social media. Email [email protected]