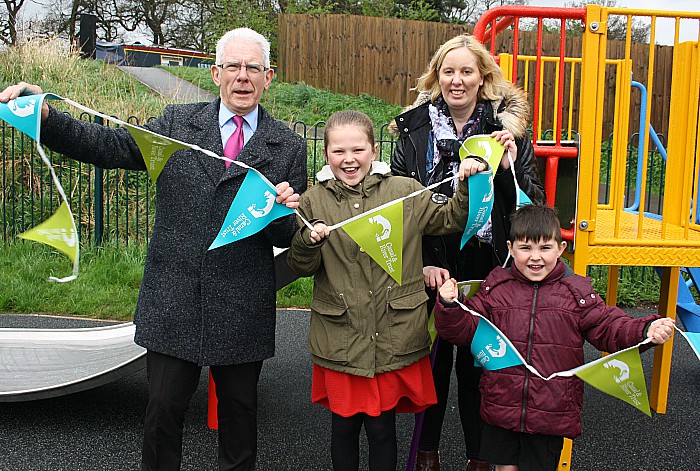 A Nantwich playground by the Shropshire Union Canal has been re-opened after a £58,000 refurbishment.
The recreation area on Marsh Lane was renovated as part of a joint scheme by the Canal & River Trust charity, WREN and Cheshire East Council.
The revamp includes a new wide slide, swings, bench and safety flooring.
And local youngsters joined friends and family to the official community opening by Cheshire East Mayor and Nantwich North and West Cllr Arthur Moran.
The Canal & River Trust, which cares for 2,000 miles of canals, owns the land and was granted funding from WREN's FCC Community Action Fund.
They wanted to improve the playground which had become an eyesore.
It has been transformed into a welcoming, safe and accessible facility for the community and visitors to enjoy.
Cllr Arthur Moran also supported the project with £1,000 from his Nantwich town ward budget.
Sarah Lalieu, Enterprise Manager at the Canal & River Trust, said: "We're delighted to re-open the Marsh Lane playground.
"Being near the centre of the town, it's very popular with local children and visitors alike.
"We hope all the youngsters will enjoy playing on the lovely new equipment and parents will appreciate the improved safety features.
"The Shropshire Union Canal provides a beautiful setting for families enjoying some quality time in the outdoors."
WREN is a not-for-profit business that awards grants for community, biodiversity and heritage projects from funds donated by FCC Environment through the Landfill Communities Fund.
Richard Smith, WREN's grant manager for Cheshire, said: "We're pleased to support the Marsh Lane Play Area project and delighted our funding has provided such a fantastic facility for children and young families across Nantwich.
"WREN is always happy to consider grant applications for projects that make a big difference to local communities."
Cllr Moran added: "It is great to see the new play equipment installed and these improvements will be welcome news for all the local community."
(Pic: Cllr Moran and Sarah Lalieu celebrate with local children Darcie Higginson, 9, and Blake Higginson, 5)