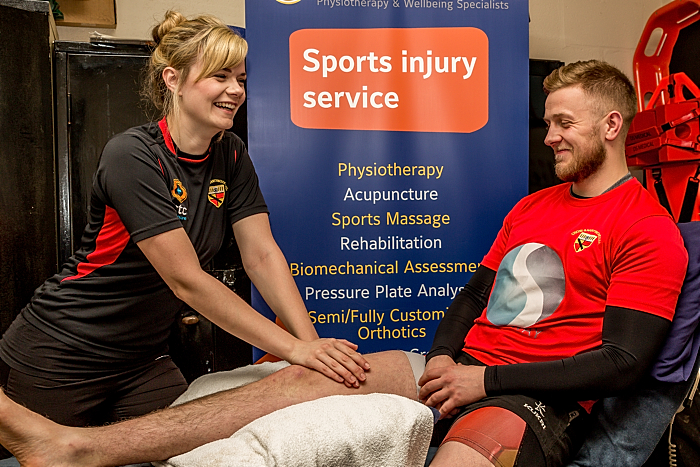 Crewe & Nantwich RUFC officials have heaped praise on a local healthcare firm for its hands-on support during one of the most memorable seasons on record.
The 1st team finished runners up in the highly-competitive Midlands Two West (North) league after a hard-fought play-off at Malvern.
Despite defeat, captain Eli Woodward was thrilled to see them get so far and paid tribute to the Nantwich-based ctchealthcare, which treats player injuries.
He said: "Last year we were relegated from Midlands One so to get to the play-offs and finish second was success in itself and a huge feat.
"The season on the whole was positive.
"Lots of players stepped up and the team morale and mentality improved massively.
"Much of that we can attribute to the ongoing support of ctchealthcare who are there to offer pre-match treatments and pitch-side assistance whatever the weather.
"This helped Crewe and Nantwich RUFC to keep players on the pitch and get others back to health as quickly as possible."
ctchealthcare is a long-term sponsor of the club which plays at The Vagrants Sports Club in Willaston.
Eli, who ruptured two major ligaments in his leg during a match, was given immediate treatment by resident physiotherapist Charlotte Banks and after care at the Crewe clinic.
Charlotte said: "Most of the injuries are sprains and strains but others can be more serious, such as concussion, and the treatment given pitch-side in the first few seconds can mean the difference between a player making a full recovery or not.
"The team missed out on promotion this year but everyone has high hopes for them next season."
Ctchealthcare also supports Crewe and Nantwich RUFC Mini and Junior section.
Physiotherapist Jake Threadgold provided pitch-side assistance at the Cheshire Under 16s finals at Willaston and officials said he did a 'superb job' caring for youngsters.
For more information on treatments visit www.ctchealthcare.co.uk