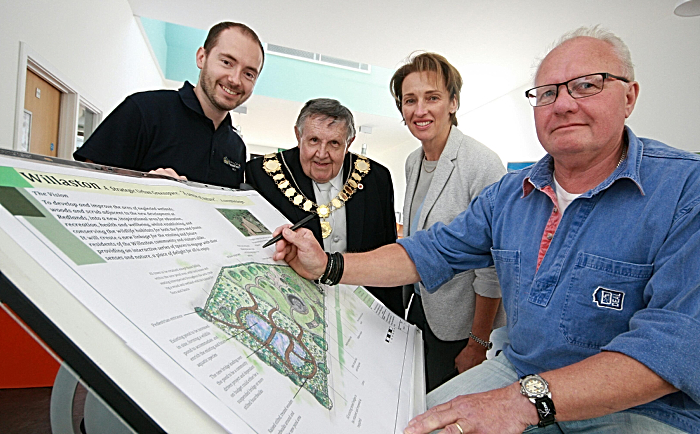 Plans to turn scrubland into an oasis for Nantwich families to enjoy have been drawn up by University Centre Reaseheath students.
The proposals are for land next to the former Redsands disused children's home in Willaston, which is being redeveloped into a specialist care home for dementia patients.
The project was identified by Reaseheath course manager and Willaston councillor Craig Bailey as a green space which would benefit from improvements.
The undergraduates, studying Landscape Architecture and Environmental Conservation and Land Management, suggest turning the neglected plot which belongs to Cheshire East Council, into a haven for residents and wildlife.
They want to develop and improve the wetlands, wood and scrub adjacent to the new development into an inspirational area for education, recreation, health and wellbeing.
Their suggestions include a pond and bridge, boardwalks, sensory planting, play area and a seating and picnic area.
And the plans have received the backing of Sarah Pochin, Cheshire East Ward Councillor for Willaston and Rope, and of Willaston Parish Council Chairman Maurice Jones.
Cllr Pochin said: "This is a very exciting community project which I fully support.
"It would be a great opportunity to improve this scrubland and create an outdoor space for Willaston families to enjoy.
"I'll be working hard with both Cheshire East Council and with Willaston Parish Council to make this happen.
"I'd like to thank the horticulture team at University Centre Reaseheath for engaging in this wonderful project and for giving the community the benefit of their expertise."
Richmond Care Villages is redeveloping Redsands into a specialist centre of excellence for dementia care which will operate as a satellite campus to its existing care village off London Road in Nantwich.
(Pic: Student Will Parks describes plans to Cllr Sarah Pochin, Maurice Jones and Reaseheath Course Manager Craig Bailey)