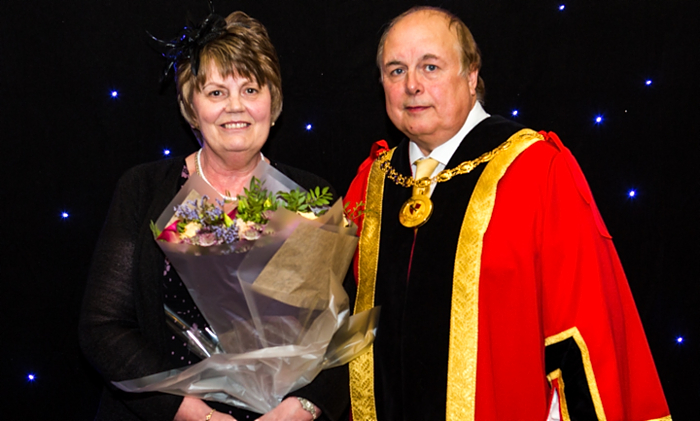 The new Mayor of Nantwich Cllr David Marren has officially taken over the chains of office for 2018-19.
Cllr Marren was formerly elected as the new Mayor to take over from Cllr Penny Butterill before the Nantwich Town Council meeting tonight (May 24).
Family, friends and colleagues packed the Civic Hall to watch the ceremony to see Cllr Marren sworn in.
Cllr Arthur Moran has been elected as  the town council Deputy Mayor for 2018-19, just a day after stepping down as Mayor of Cheshire East.
Father-of-two Cllr Marren, a serving magistrate and current Cheshire East Councillor, will be aided by his wife and consort Belinda during his year as Mayor.
He said: "I am duly honoured to be chosen and elected as Mayor, and I promise I shall continue to do my utmost for the town and the people.
"Since moving here in 1983 with my wife and two young children at the time, I've helped to shape and sustain the town's successes over the last three decades.
"I've taken particular interest in building this as an 'events' town and working with the community.
"In 2011, Cllr Martin asked me to stand for election for Nantwich and help in the transfer of assets and services to the town council from Cheshire East.
"I was delighted to be asked and immediately decided I would.
"Now I am humbled to hold this foremost role and promise to do all I can and serve with fairness and honesty."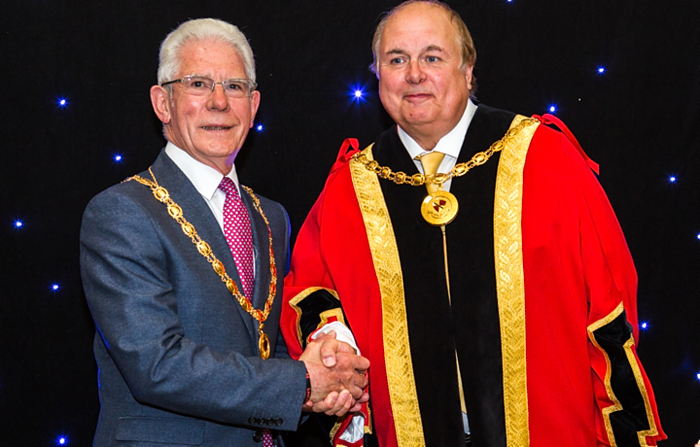 Cllr Marren's three chosen charities for 2018-19 are North West Ambulance Community First Responders in Nantwich, Nantwich Fire Cadets, and Hope House Children's Hospice.
Cllr Moran said: "I've known David since the mid 1980s, as a magistrate and back when we served on Crewe and Nantwich Borough Council.
"In all his roles he has shown the attributes of professionalism, thoroughness and integrity.
"He firmly believes that whatever our differences, we are here to do what is in the best interests of the town.
"He and Belinda will make a brilliant civic team this year."
Outgoing Mayor Cllr Butterill presented the Mayor's donations from 2017-18 to her three chosen causes.
Donations of more than £5,500 were split between Nantwich Museum, Wingate Children's Centre in Wrenbury, and Macmillan Nurses (pictured, below).
A tearful Cllr Butterill added: "It's been a great honour and privilege to be Mayor this year, I've met so many wonderful people.
"And without my consort and husband Doug, I could not have carried out this job."
(Pictures courtesy of Nantwich Events Photography)