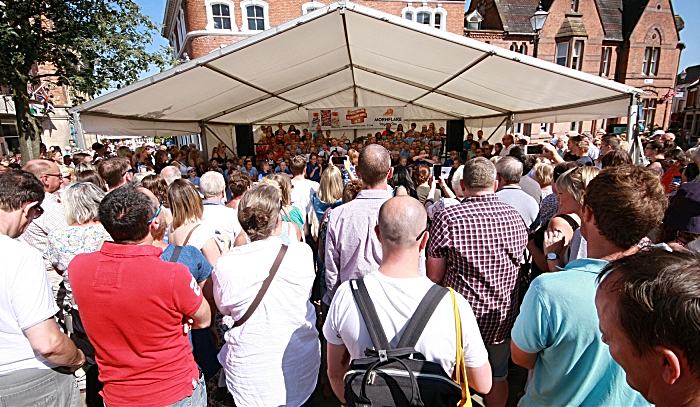 Nantwich was filled with the sound of children's voices for a record-breaking Schoolsfest 2018.
Families flocked to the town centre to enjoy a packed programme of music, art, dance and drama involving more than 500 youngsters.
It was the 8th annual event with main sponsor Mornflake helping it to grow into an even bigger spectacle this year.
Choristers from all 18 schools in the Nantwich Education Partnership took part in the Big Sing on town square followed by The Battle of the Bands for young performers on the Mornflake stage.
Energised conductor Victoria Palethorpe was at her best again as she led the Big Sing.
There were stalls selling books, games, jewellery, homemade cakes and more, through to stalls that tested skill levels in splattering rats or taking a chance on a stake on the human fruit machine.
Cllr David Marren, Mayor of Nantwich, said: "Events like SchoolFest are exactly what Nantwich needs to ensure the continuing prosperity of the town, evidenced by the number of visitors and consequently the absence of empty shops.
"The Town Council once again provided a healthy grant to support St Mary's with its fete and it was good to see how the church and its volunteers worked closely with the Nantwich Educational Partnership to ensure that the overall event was both memorable and successful."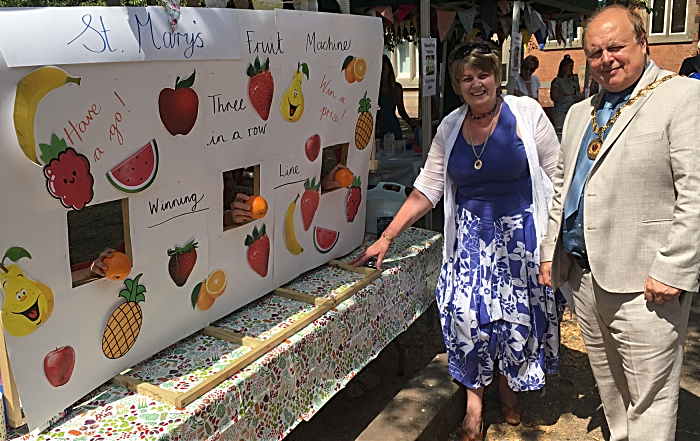 Charlotte Gibbs, from Brine Leas School, won a Mornflake competition to create a flapjack recipe.
Her caramel flapjacks and Harrison Elkington from Millfields Primary with his honeycomb flapjacks were winners.
All the town primary and high schools were involved including Highfields.
Sue Knight, chair of its Academy Trust, said: "There was a wonderful atmosphere.
"Hot weather and the English World Cup match on TV didn't stop people from attending."
Schoolsfest also helped set tills ringing in shops with performance venues spread across town including the square, Cocoa Yard and St Mary's Church.
Nantwich Bookshop owner Steve Lawson said: "We were busy from the moment we opened and visitors were delighted to hear the children sing.
"Many asked 'Is it always like this in Nantwich?' as they enjoyed their food and drink.
"Events like Schoolsfest really help to showcase our wonderful town and bring people back time after time."
Cllr Marren added: "The highlight for me was presenting prizes to Emily Witchley and Caroline Willis of Brine Leas and also to Crewe band, Article 50 in the end of event, Battle Of The Bands.
"I suspect we'll here more of these very talented youngsters in the near future."