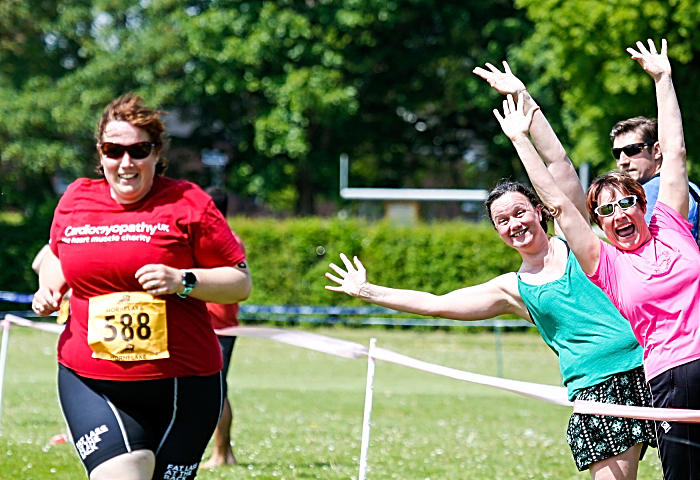 This year's North West Triathlon in Nantwich will help raise vital funds for a dementia appeal.
The event, held at Nantwich Swimming Pool and Barony Park, will be donating to the Everybody Knows Somebody appeal run by Mid Cheshire Hospitals Charity.
The first triathlon in Nantwich was held back in 1992 and have welcomed thousands of competitors of all ages and abilities over the years.
Last year, organisers added the kids Fun Duathlon to the calendar allowing 5 to 16 year olds to run, bike, run in a safe and organised environment.
Now MCHC are looking for support to help raise funds for the new £1.5 million Everybody Knows Somebody Dementia Appeal, which will fund projects to enhance the care and experience for patients living with dementia.
The appeal will make a difference to hundreds of patients living with dementia who use their hospitals every year and with your support, they can make the hospitals safer, more welcoming and less frightening.
The MCH Charity has a limited number of FREE places for the triathlon in return for raising a minimum of £200 sponsorship in aid of the 'Everybody Knows Somebody' Dementia Appeal.
Emma Robertson, MCH Charity Manager, said: "We are delighted to have the continued support from UK Triathlon this year.
"We are very lucky that the company and two of their fantastic triathlons are based in our local area, and that they have chosen to support our 'Everybody Knows Somebody' dementia appeal in this way.
"Triathlons are a brilliant personal challenge and a great way to fundraise, so we would encourage anyone thinking of signing up to choose to support our appeal at the same time."
The Triathlon will be held on Sunday September 30.
Participants can choose one of two distances suitable for beginners through to seasoned athlete, as well as competing as a Relay Team.
The Kids FUN Duathlon takes place the day before on September 29 and has a choice of six distances as well as a Relay Team option.
UK Triathlon spokesperson Zoe Steenson said: "Our ethos has always been about promoting healthy lifestyles and encouraging all abilities & ages to do what they can and exercise.
"The ability to support local and national charities with their appeals is a great addition to our ethos and our events are a great fit for those wanting to fundraise whilst getting fit and having fun.
"Working with both charities and fundraisers to help them achieve their goals is a pleasure and a privilege and very satisfying when we all see the end result."
For more information on the free MCHC places call 01270 273248 or email [email protected]
For event information visit www.uktriathlon.co.uk