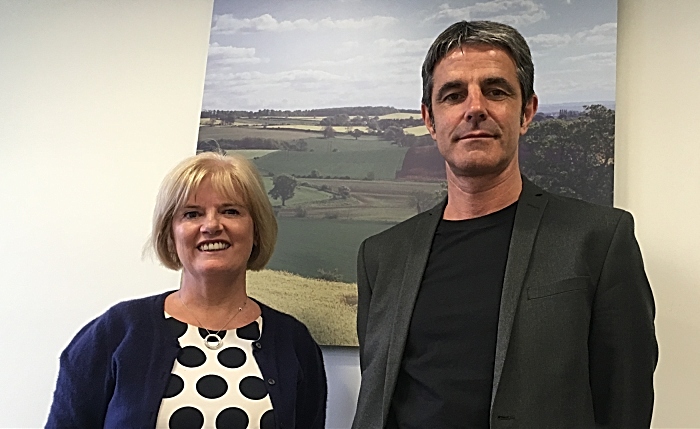 More children fleeing war-torn countries were left at Cheshire's M6 service stations in 2017-18 than in every other year this decade, writes Stephen Topping.
Cheshire East Council says it experienced a spike in the number of under-18s arriving in the borough in search of asylum during the winter months.
Nine young refugees were left unaccompanied at Sandbach services in 2017-18, while a further four were left at Knutsford.
"Generally speaking they are being transported in lorries and vans," said Steve Nevitt, service manager for resources (people) at CEC – the officer leading the council's work to support young asylum seekers.
"Sometimes suspicious vehicles are intercepted by the police, other times the young people are literally just dropped off at the services.
"We've also had some young people picked up in the community.
"A young man who had been dropped off at Sandbach services managed to find his way into town."
Cllr Jos Saunders, CEC cabinet member for children and families, added: "We had a spike before and after Christmas and those numbers have since stabilised.
"But we do have proximity to Manchester and Liverpool, and that's where those young people want to be so they can access jobs – they don't necessarily want to be in the countryside."
Figures obtained from a Freedom of Information request show that eight 17-year-olds and five 16-year-olds were left unaccompanied at Cheshire East's two motorway service stations in 2017-18.
That figure compares to two 16-year-olds and one 15-year-old in 2016-17, plus one 16-year-old and two 15-year-olds in 2015-16.
No asylum-seeking children were left at Knutsford or Sandbach services in 2013-14 or 2014-15, while one 13-year-old was left in 2012-13, plus one 17-year-old in each of 2010-11 and 2011-12.
Cllr Saunders believes there is a "myriad" of issues that could have caused the spike.
"I think when you look back at the summer of last year Isis lost a lot of its stronghold," Cllr Saunders said.
"That could be part of it, because there is that period of time to get to Europe, but I don't know – I think there is a myriad of so many issues."
Steve added: "Although they are not massive numbers it is a steady trickle, and I would imagine people in the community would probably be surprised that pretty much on average one young person a month is being picked up at a motorway services in Cheshire.
"The two main areas where young people are coming from are middle Eastern countries such as Iran and Iraq where obviously there is huge instability, and then north Africa – particularly Eritrea.
"You don't have to watch the news too frequently to hear the stories about how those countries are quite unstable."
Police collect unaccompanied asylum seekers and take them to the Middlewich custody suite for safeguarding, before CEC's social work team visits them as soon as possible.
CEC assesses the refugee to check they are in good health, before deciding on the right support for the child – either finding a foster family or providing a supported living service for older teenagers that are looking for more independence.
The council then finds each asylum seeker a GP and dentist, before setting them up in education or training – including English courses and advice on life skills, such as budgeting – and working to secure each child's immigration status.
Steve said: "Anybody who is under 18 that comes into our care qualifies as a cared-for child in the same way as anybody else who comes into care.
"As they get older they are allocated a personal adviser from the leaving care service, then when they become 18 they are entitled to 'leaving care' status – so we can continue to support them if it's necessary and appropriate until the age of 25."
Faith groups also play a key role in helping young refugees settle in Cheshire East – with local church groups offering accommodation and support, while young Muslims can find support from their own community at mosques in the borough.
CEC currently supports 20 young asylum seekers who are care leavers over the age of 18, as well as 14 cared-for child refugees, at a total cost of £6,000 per week.
"Obviously any cost you could argue is a cost [to the taxpayer]," Cllr Saunders said.
"But to be honest, we have a duty of care to those children, and once they come into our system they are our children – that's how we treat them.
"We want to give them the best outcomes that we can, the same as we do for all of our cared-for children.
"It's something to be proud of to be honest. It really is."
Much of CEC's work in supporting young refugees goes under the radar, while the accommodation where young asylum seekers are based is kept out of the public domain to help ensure the youngsters' safety.
"We try to keep a relatively low profile, and touch wood, there haven't been any significant issues with our young people in the community which is obviously what we want," Steve said.
"We want our young people to be able to live safely and anonymously."
Cllr Saunders added: "We would certainly hope that they then are fully-integrated into the community and they live very long and fulfilling lives – making a contribution to the community that they have chosen to live in."
Supporting refugees who have been left at the borough's M6 services is just one of the ways young, unaccompanied asylum seekers can enter CEC's care.
The council has taken in two groups of three young people under the National Transfer Scheme that was designed to alleviate the pressure placed on Kent County Council – which had responsibility for almost 1,000 young refugees in 2016.
CEC has also accepted two Eritrean girls under the Lord Dubs amendment to the Immigration Act, which transfers young people following the closure of refugee camps at Calais.
Steve added: "Our staff really enjoy working with the unaccompanied asylum-seeking young people.
"Our accommodation providers always report how easy they are to work with, how eager they are and how grateful they are for the support they receive.
"I think the overall sense is that we are immensely proud to be involved in what I think is essential humanitarian work."