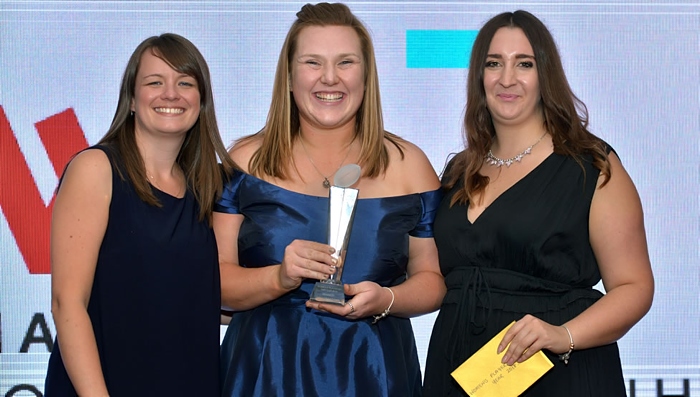 Crewe & Nantwich RUFC Ladies captain Mollie Latham has scooped the National Rugby Awards Female Player of the Year at Twickenham!
Mollie was shortlisted for the award after her amazing achievements in leading the Vagrants ladies team as well as her wider role in the club.
And she was stunned when she picked up the top prize at the award ceremony, beating 400 other applicants including Premiership players.
The awards are held annually to recognise the work of players, coaches and volunteers in the game of rugby across the UK.
Judges shortlisted Mollie from hundreds of others before naming her winner on the night in front of more than 600 representatives from the amateur and professional game, presented by Sky Sports' Alex Payne.
Judges commended Mollie for her performances on and off the pitch, with her work across the wider club giving her the nod over some stiff competition from all corners of the country.
Mollie said: "The fact that my coach Matt Baty thought I was worth entering as a potential candidate for this award was amazing enough.
"I had no idea he had put me forward until he rang me to say I had been shortlisted, so when I was announced as the winner I was ecstatic.
"The awards ceremony was a great experience in itself.
"We got to walk down the Twickenham tunnel and onto the pitch accompanied by our guests, followed by a three-course meal and a touching award ceremony which congratulated all the nominees.
"I was able to celebrate with my family, girlfriend, team mates and coaches who have all been hugely supportive of me over the last few years; I wouldn't have achieved this without them.
"This amazing event celebrates the importance of grass roots rugby and to win it in front of so many volunteers, sponsors and fantastically talented players will be something I'll remember for the rest of my life."
C&N RUFC Club Chair, Nik Joyce said: "We're all over the moon for Mollie.
"She's an amazing role model throughout the club and an incredibly modest person, so for her to have recognition on a national scale is a huge honour for her and so well deserved.
"The wider club is thrilled for her!
"This is a great omen to start the season and we can't wait for the first XV, Ladies and Junior Colts to kick off their season this weekend too."
Crewe and Nantwich 1sts start their league season this Saturday (Sept 8) in their clash against Walsall RUFC.
On Sunday (Sept 9), the Ladies who are set to play away at Kendal RUFC, kick off 2pm.
Mini and Juniors training resumed on Sunday, and the club will see the debut of a newly formed Junior Colts side against Bolton.
The club continues to welcome all new players from the age of 5 upwards.
More details on training times, matches and contact details can be found at http://www.cnrugby.uk/contact/