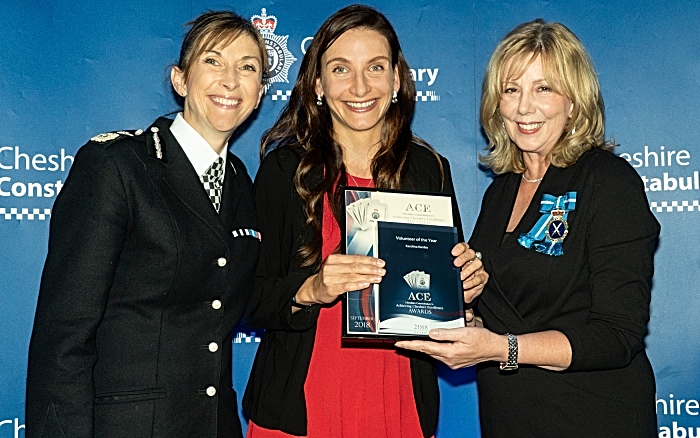 Civilians, volunteers and officers were honoured at the annual Cheshire Police awards in Crewe.
Award winners include police volunteer Karolina Kardas, Special Constable Derek Gardener, Det Con Leanne Brundett, and Crewe Beat Initiative Team.
The ceremony took place at Wychwood Park in Crewe.
Karolina (pictured, above) was presented with an Achieving Cheshire Excellence (ACE) Award for giving up her time to assist with translating Community Beat Meetings and set up a football team designed to encourage cohesion between the English, Polish and other ethnic minority communities.
She has also supported the homeless community and runs the Polish language Crewe Police Facebook page, where she promotes community events and various campaigns as well as responding to all police related questions.
Karolina, aged 35, who won the Volunteer of the Year award, said: "When you work as a volunteer it is something you choose to do. When I started I didn't expect to carry on for this long but I have enjoyed it so much it has continued.
"Crewe has a large Polish community and needs this support, mainly because of the language barrier."
Derek gave 50 years of voluntary service to Cheshire Police and has been recognised with a Lifetime Achievement Award.
In 1968, at the age of 20, Derek Gardener became a Special Constable – a role he has continued to carry out to this day.
In 1987 he joined the Band of the Cheshire Constabulary and has been praised for his endless energy and drive to help make the band a success.
Derek said: "I've enjoyed all the years I've been with the police as a Special Constable out in uniform representing the force.
"The 30 years I've spent in the band has also been fantastic and I still enjoy it to this day."
Det Con Leanne Brundett, 37, was honoured for her commitment, winning the Cheshire Police Officer of the Year.
She drove an abuse victim to a safe location in Scotland despite having already completing her shift and then, following 17 consecutive hours on duty, spending a further two days putting support measures across national geographic borders in place for them.
Team of the Year was Crewe Beat Initiative Team, which used proactive, reactive and covert investigative techniques to bring the town's most wanted offenders to justice.
Acting Chief Constable Janette McCormick said: "It always gives me immense pride to see the continued commitment and dedication our officers and staff have to protecting the public of Cheshire.
"We see fantastic work across the county every day, and the ACE Awards are a chance to celebrate some of this work and hear the inspirational stories which have led to officers and staff being nominated for an award."
Police and Crime Commissioner David Keane added: "A huge congratulations to all of the outstanding officers, staff and volunteers that have won an award or been nominated at this year's ACE Awards.
"Their dedication, hard work and commitment to protecting local residents ensures that Cheshire remains one of the safest places in the country to live, work and visit."
A full list of winners from this year's ACE Awards:
• Lifetime Achievement Award – Derek Gardener
• Community Engagement (sponsored by the Office of the Police and Crime Commissioner) – PC Ric Walker and PC Sarah Wilson
• Services to the Public (sponsored by Blast! Films) – PCSO Julie Malpeli
• Working in Partnership (sponsored by Dell EMC) – Detective Constable Dave Thomason and Consultant Forensic Psychologist Dan Price-Jones
• Creativity and Innovation (sponsored by SAAB) – Robbi Unwin
• Inspirational Leadership – Detective Sergeant Mark Naylor
• Volunteer of the Year – Karolina Kardas
• Special Constable of the Year – Dan Glassey
• PCSO of the Year – PCSO Chris Carr
• Police Staff of the Year – Flick Goldspink
• Police Officer of the Year (sponsored by Cheshire Police Federation) – DC Leanne Brundrett
• Team of the Year – Crewe Beat Initiative Team